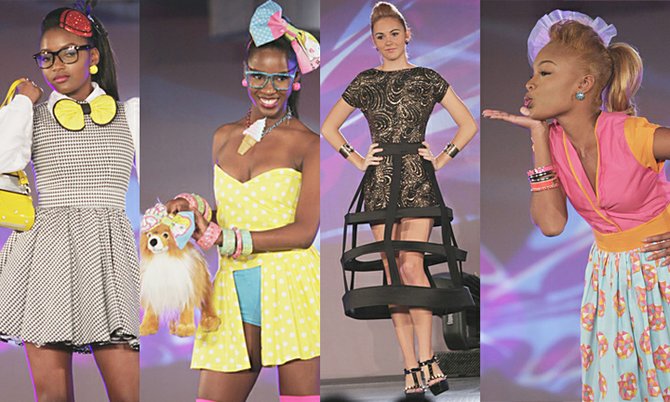 By ALESHA CADET
Tribune Features Reporter
acadet@tribunemedia.net
THE CLOTHING line that captured the eye of every fashionista in the building was that of emerging designer Kishanna Sands. She debuted her "Port of Paradise" designs on the Fash|Art catwalk, Saturday night.
Kishanna captured the coveted "Fashion Next: Harl Taylor Emerging Fashion Designer" award, beating out four other contestants at the showcase of new Bahamian talent in the world of fashion and art.
The line was described as "fun and full of life", by one event patron, who said it was fit for a person with a "very daring personality". Others said they could imagine Nicki Minaj sporting some of the designs.
"When I saw her work, I saw NY Fashion week on the runway. I don't know her personally but I can see she is very talented and I say keep up the good work. I feel like there are a lot of people in the Bahamas with talent like this, but they keep it to themselves. What good is a talent, if only you know you have it? Thank God for organisations like Fash|Art that bring out the drive in these young artist," said Janelle, a patron.

Kishanna said she was "overwhelmed" by the win, considering Fash|Art was her first competition. She, and said
"At first I got a little bit nervous when I saw some of the other designer pieces because they were nice, but I just had to stay confident and be secure in my work and what I had to offer. And in the end, all of my hard work and sleepless nights paid off," said Kishanna, who incorporated her own personal flare into the Port of Paradise designs.
The line depicted two parts of her personality: the side that is fun, girly and flirty and the other side that is very fierce, edgy and fearless. It incorporated denim, lace, leather and a number of different textures and fabrics. Kishanna chose to tone down traditionally dressy styles, so they could be worn casually.
"I always wanted to take a lot of casual fabrics and then dress them up to show women that you don't only have to wear cottons and metallic. This line can definitely be worn casually; it is basically for women who show up to make a scene and be remembered. It all depends on your own personality and style," said Kishanna.
While she loves prints and vibrant bold colours, she wanted to demonstrate her range, which is why she presented bright colours at the beginning and edgy colours towards the end.
"I actually was sceptical about competing in the competition. I procrastinated for a long time until I said, what the hell. Let me just do it because I don't have anything to lose," said Kishanna.
With the encouragement of friends, who "always loved my clothing and style", she signed up for the competition after seeing an advertisement on Facebook.
"She told me I should try out for the competition, it should be fun and I told her I didn't have time. But I got a call from one of the coordinators and she felt like I could be a good candidate so I just went along with it," said Kishanna.
She floated the idea of one day designing for men, saying fans can expect even more creativity in the future.
That was good news for Erika, a big fan, who has been keeping up with Kishan online throughout her Fash|Art journey.
"I usually follow "Kedar In Style" on my Facebook page and I have seen him feature her in his weekly Fashion of the Day photos. Her style amazes me. I am a daring person and I commend any and everybody who is different. Sometimes I feel like Bahamians don't appreciate fashion because they see you as different and they think you are dressed somewhat foolish. But all in all, they are just not ready for real fashionistas like her over here. Again I commend her for daring to be different, and she came out on top," said Erika.
Kishanna was awarded $1000, a photo campaign from photographer Scharad Lightbourne and a showcase in next year's event.