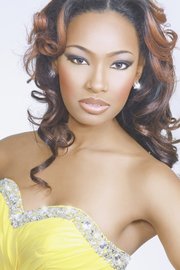 AFTER a two-week intensive search, Bahamas Beauty International selected 22-year-old Brooke Marie Sherman as its very first Miss Earth Bahamas.
The Grand Bahama native is currently in Manila, the Phillipines, vying for the 2012 Miss Earth crown against 90 other contestants.
"This is a blessing and a great opportunity from the Lord for me to be able to do this," said Ms Sherman. "It hasn't really sunk in yet because I had to get to work really quickly and now I'm in Manilla but I feel blessed and I know that my strong spiritual beliefs will see me though."
President of BBI Delano Sweeting said the organisation was fortunate to have found Ms Sherman in such a short period of time.
"Having acquired the Miss Earth franchise so late in the year, we had 18 days to get the ball rolling," he said. "I really didn't have much time to get everything together so instead of having a pageant first we went through a screening process to select a group of potential candidates for the crown."
Mr Sweeting said his panel spent five days conducting intense interviews to test the young women's modelling and speaking skills, as well as their environmental knowledge.
"At the end of the interviews, it was obvious that 22-year-old Brooke Sherman was the best choice for the organisation," he said.
"I am excited to have been able to find somebody like Brooke, who epitomises what Bahamas Beauty International will be known for.
"We expect the right combination of beauty, elegance, intelligence and sass and we took the remaining 13 days to train and style her for the international competition."