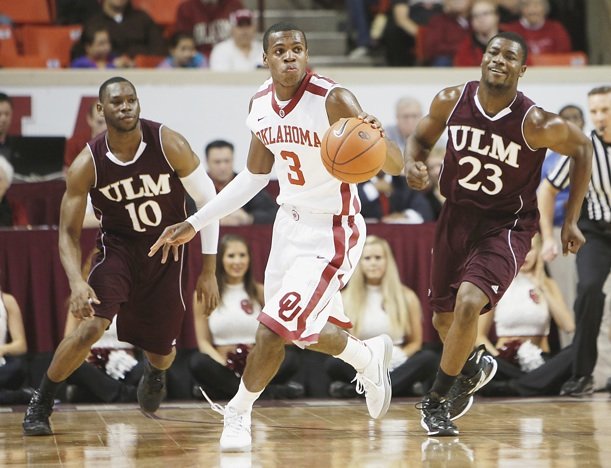 By RENALDO DORSETT
Sports Reporter
rdorsett@tribunemedia.net
Recruited to provide instant offense off the bench for the Oklahoma Sooners, Buddy Hield delivered an impressive debut performance in his introduction to Division I College basketball.
Hield scored nine points off the bench in the Sooners' 85-51 win over the Louisiana Munroe Warhawks to open the 2012-13 season yesterday at the Llyod Noble Center in Norman, Oklahoma.
The Grand Bahama native and former Jack Hayward Wildcat shot 4-7 from the field, 1-3 from beyond the arch and added three rebounds, one assist and two steals in 22 minutes.
Steven Piedger led a balanced Sooners scoring attack with 15 points while Amath M'Baye added 12 points and nine rebounds.
Hield scored the first points of his collegiate career when he converted a steal into a fastbreak layup early in the first half to give the Sooners an 18-11 lead and his lone three pointer with 2:42 left to play in the half put the Sooners ahead by 20 (36-16).
Oklahoma took a 38-28 lead at the half and outscored the Warhawks 47-29 in the second half.
Hield was one of seven Sooner players to score at least nine points.
It was the 10th-consecutive win in a season-opener for the Sooners, who are slated to face Texas Arlington in their next game on November 17.
Hield, a 6'3" 200 pound guard, was a four-star recruit ranked 86th nationally and as the 17th best shooting guard in the country by Rivals.com.
In his senior season at Sunrise Christian Academy Buffaloes in Witchita, Kansas, Hield averaged 22.7 points on .491 shooting in 21 minutes per game as a senior. He also added four rebounds, 2.9 assists and 2.3 steals per game while shooting .348 from 3-point range.
He led the Buffaloes to a 23-4 record and a National Association of Christian Athletes National championship where he was named tournament MVP.
Hield is the son of Jackie Swann and Richard Bryanen and chose the Sooners over Big 12 rivals Colorado. He also recieved offers from Boston College, Memphis, Mississippi State and Nebraska.
Hield may have opened the flood gates for the Sooners to use Sunrise Christian as a pipeline to recruit Bahamian talent.
The Buffaloes currently boast several other Bahamian players on their roster, including Andre Sands, Nathan Bain and Lourawls Nairn.
Nairn, a 5' 10" point guard, has already recieved an offer from Kansas State but continues to garner attention from schools within the Big 12 region as he moves up the Class of 2014 rankings.
A former CR Walker Knight, Nairn was also a member of the Bahamian national team at the 2011 Centrobasket U-17 tournament when he averaged a team high 16.2 points per game. He also finished with 5.8 rebounds and 5.8 assists per game.
The versatile Bain, at 6' 6", is a high flying wing player whose jumping skills netted a silver medal in the high jump at the 2011 CARIFTA Track and Field Championships.
Sands, a 6'7" power forward, was the catalyst for the dominance of the Sunland Baptist Stingers in the GBSSAA before he transferred to Sunrise Christian.