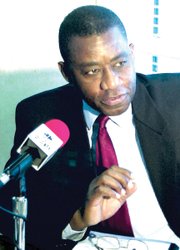 By NEIL HARTNELL
Tribune Business Editor
nhartnell@tribunemedia.net
The Government's deficit grew by 49.5 per cent to hit $81.6 million for the first two months of the 2012-2013 fiscal year, a key Ministry of Finance adviser saying the "unwelcome" trend of spending growing faster than revenues remained.
Commenting on Central Bank of the Bahamas data, which showed that the deficit for the July-August period widened by $27 million year-over-year, James Smith, a former minister of state for finance, said the economy's wider problems were also being felt in the trade balance as well as the fiscal deficit.
For those two months, the Central Bank said the Government's total spending increased by $43 million or 17.7 per cent to $285.8 million, exceeding the 8.5 per cent or $16 million revenue growth to $204.3 million.
While tax collections rose $16.7 million or 9.7 per cent to $189.5 million, led by an $11.6 million or 12.5 per cent rise in international trade taxes, non-tax revenues fell by $0.8 million year-over-year to $14.8 million.
Yet the spending side, and the faster pace at which it is increasing compared to revenue intake, seemingly remains the Government's biggest problem. Capital spending more than doubled to $39.1 million, due to a "two-fold hike in infrastructure spending to $35.5 million", while asset acquisitions were also up $1.9 million.
On the recurrent spending side, which covers the Government's fixed costs such as wages and rents, expenditure increased year-over-year by $19.2 million or 8.7 per cent to $240.9 million. This, the Central Bank said, was driven by a $9.6 million or 10.2 per cent increase in wages and salaries, plus an $8.4 million rise in transfer payments.
Mr Smith said he thought the wages/salaries increase was linked to payments and increments promised to the public service, which fell due for payment at the start of the 2012-2013 fiscal year.
As for the infrastructure spending hike, Mr Smith said the Government ended up paying an unanticipated $12 million per month - for a two-three month period - to cover the New Providence Road Improvement Project's costs until the $65 million Inter-American Development Bank (IDB) loan was approved.
He acknowledged, though, that the trend with the Government's finances was "not a welcome one, where expenditure is running at a much faster pace than revenue".
"Too many commitments were made in the short-term above the capacity to fund them," Mr Smith told Tribune Business. "We should have been digging in on those, but this became even more difficult to do with the change in government.
"If the outgoing government makes promises, the new one is expected to carry through with them, whether or not the capacity is there. And we're not seeing a rebound in the economy through tourism and foreign direct investment. This thing is working itself out through the fiscal deficit, but is also putting pressure on the balance of trade."
Rick Lowe, a noted fiscal hawk with the Nassau Institute, when told of the Central Bank's deficit figures, said simply: "The taxpayer doesn't get a sense the Government is serious about containing expenditure, and this sort of emphasises that point."
Elsewhere, the Central Bank report said hotel room revenues on New Providence and Paradise Island increased by 1.6 per cent year-over-year during the 2012 third quarter, boosted by a five percentage point gain in average occupancy rates to 68.9 per cent. This offset a 6.3 per cent decline in average daily room rates (ADR) to $205.6.
On the banking front, total loan arrears fell by $71.2 million or 5.8 per cent year-over-year to $1.163 billion - a development likely due to borrowers coming back into good standing after the summer vacation period.