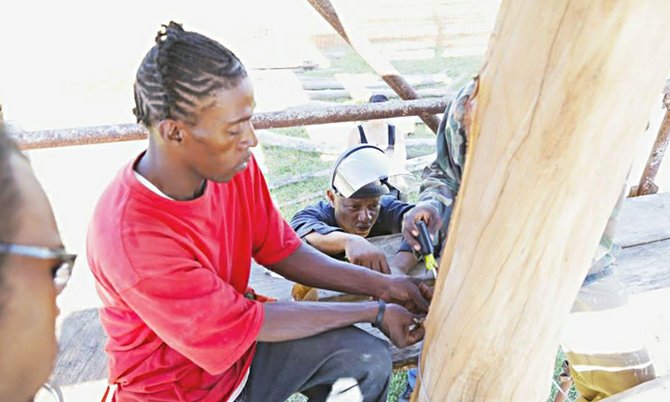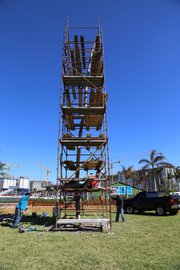 THIS Christmas, Baha Mar is inviting its Bahamian neighbours – school children, residents and local artists – to help turn its original wood-sculpture Tree of Trees even more green this holiday season by crafting special ornaments from recycled water bottles and donating found items that can be repurposed as unique and meaningful decorations.
Starting November 12, junior and high school students on New Providence will participate in the ornament drive by decorating plastic water bottles collected from the Baha Mar properties.
Students will be asked to include a piece of paper in their ornament sharing their wish for a better Bahamas. The general public also will have the chance to participate in the drive by donating items found on Bahamian beaches – including items washed in by Hurricane Sandy or collected during storm clean-up – that can be reused as ornaments for this special tree.
"We want people to use their imaginations to design their ornaments and to make them special," said Bahamian artist Antonius Roberts, who was commissioned by Baha Mar to create the 40-foot Tree of Trees sculpture.
"Our beaches become landing spots for many otherwise unwanted items and my vision is that, with the community's help, we can transform those items from debris to meaningful decorations through this unique ornament drive.
"We are very excited to join forces with Antonius Roberts to create a one-of-a-kind sustainable sculpture for our neighbours and to have them participate in its decoration through this unique ornament creation programme," said Robert Sands, senior vice-president of administration and external affairs for Baha Mar. "The holidays are a time of giving and renewal and we feel that the Tree of Trees and its unique decorations will truly embody the spirit of the season while creating a one-of-a- kind community work-of-art to be enjoyed by everyone."
Items to be donated for the Tree of Trees decoration should be clean, weatherproof and lightweight. Donations can be made at Antonius Robert's studio, Hillside House, from November 9–28.
Hillside House is located at 25 Cumberland Street and its hours of operation are 10am – 4pm every day except Thursdays and Sundays.
The 40-foot-high Baha Mar Tree of Trees is currently being created on-site at Hobby Horse Lake Park – across the street from what will be the main entrance into Baha Mar.
The trunk of a massive dead Casuarina tree – found at Goodman's Bay during Hurricane Sandy clean-up efforts – anchors the Tree of Trees sculpture and the branches will be crafted from trees felled by Hurricane Sandy, invasive trees culled from the Baha Mar construction site and recycled driftwood from throughout the Bahamas.
The Tree of Trees is scheduled to be completed in late November with a community tree-lighting to take place shortly thereafter.
The sculpture will remain year-round in Hobby Horse Lake Park, located on West Bay Street.
The park, its surrounding public walkways and restored native flora and fauna will serve as the gateway to the planned 70-acre Baha Mar Wildlife Preserve.