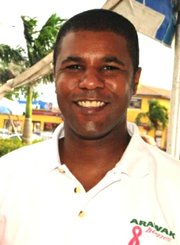 By NEIL HARTNELL
Tribune Business Editor
nhartnell@tribunemedia.net
The Bahamas Real Estate Association's (BREA) president yesterday backed government plans to involve the private sector in building inspections, arguing that it would relieve development "log jams" and create new revenue streams for licensed professionals such as architects and engineers.
Franon Wilson described as "huge" and "significant" last week's comment by Environment Minister Kenred Dorsett, who said he was looking to "beef up" the housing/building inspectorate and get the private sector involved with the Government's quality assurance programme.
The BREA president said that by outsourcing building inspection functions to the private sector, the number of licensed inspectors in the field would increase - thereby reducing the time and expense incurred by developers in waiting for their constructions to be signed-off.
And, given that all building inspections are currently carried out by the Ministry of Works, Mr Wilson said outsourcing this more to the private sector would reduce the liability burden assumed by the Government for all faulty construction work that went undetected.
He added that the $4 million repair bill faced by the Government for correcting faulty workmanship in the public housing programme would at least have been much reduced had private inspectors been involved, for they or their professional indemnity insurers would have been liable for mistakes missed.
Mr Wilson told Tribune Business that his company, Arawak Homes, together with the Institute of Bahamian Architects (IBA) and Bahamas Society of Engineers (BSE), had in 2010 written a letter to the Minister of Works on the same issue. They had pointed out then that he had the ability to issue a directive getting more private sector inspectors involved without going through Parliament.
Involving the private sector in building inspections, Mr Wilson said, would "reduce the amount of time to do inspections, and allow the Ministry to position its personnel to better facilitate the Building Control Act.
"Instead of having 10 buildings to inspect, an inspector may only have two-three to inspect because of more manpower. It would also reduce the expense for the Ministry associated with sending people to remote parts of the Bahamas.
"It would also introduce a new revenue stream and greater economic opportunity for private individuals who conduct such inspections," Mr Wilson added. "What will end up happening is that, right now, you have a group of trained and qualified engineers, architects, where things are tough. This is an opportunity for them, if they do a good job, to hire someone to assist them in the inspection of homes.
"It would stimulate economic activity on many fronts. If the private sector was involved, maybe we would double, triple, quadruple the number of building inspectors at the Ministry and have the opportunity to get work done much faster. We have an opportunity to get guys working, and bring down the cost of development in the Bahamas."
Backing Mr Wilson's position, Andre Braynen, a member of the IBA's executive, said: "The IBA concurs with Mr Wilson's view that third party inspections should be extended to the private sector on a much wider basis through the Ministry of Works.
"In fact, the IBA has been trying for the past five years to not only get third party inspections implemented by Ministry of Works, but also has done extensive research on the building permit process and has given recommendations to the previous administration on processes that would have impacted building permits and building inspections." (see story on Page 1B).
The IBA's recommendations, which were submitted to the former Ingraham administration and have been seen by Tribune Business, call for an 'Alternative Inspection Programme'.
This would allow licensed contractors, engineers and architects to carry out building inspections in areas where they were qualified.
After providing proof they had been retained, and had the appropriate licence from the Ministry of Works' building control unit, these professionals would then access the same inspection forms used by that unit. An administration fee could also be filed when a private inspector submitted a report.
The IBA recommendations said: "This programme would allow owners of construction projects or their contractors the option of using a private provider to conduct construction inspection duties in lieu of personnel from the Building Control Department (BCD).
"This process would allow all licensed architects, licensed engineers and individuals certified by BCD to conduct stage inspections typically carried out by BCD personnel.
"Implementation of this process would help to eradicate the current problem experienced by ongoing construction projects of having great difficulty in getting BCD inspectors to the construction site in a timely manner."
Mr Braynen said was "pretty much standard" to outsource building inspections to the private sector in the US and Caribbean, adding: "We're one of the few places that don't."
Following their lead, he said, would "relieve some of the bottlenecks" and provide employment/revenue streams for qualified contractors and other professionals currently not working.
While not suggesting that the Ministry of Works do away with its own building inspection unit, as some construction projects would prefer to use them on cost grounds, Mr Wilson said there were currently too few inspectors to cope with the volume of construction new-builds. The result was delays, and extra costs, for contractors, developers and their clients.
"Today, there's a logjam that comes into the development process," Mr Wilson told Tribune Business, adding that the time taken to get a building inspected and passed varied. "It's very significant. It's huge. With private inspectors, projects could move faster. Things move a lot faster if the private sector is involved, and qualified people are involved.
"The reality today is that the Ministry does not have the manpower to respond on a timely basis to every building being built in the Commonwealth of the Bahamas. This initiative would allow construction to continue at a faster pace.... Faster construction leads to more people working, more people being employed on a timely basis and, at the end of the day, the client ends up with a safer product."
Mr Wilson likened private building inspections to the role played by private attorneys in conducting title searches on mortgage transactions, pointing out that there work did not have to be signed-off by the Attorney General's Office. And, just as liability for defective titles came back to attorneys and their insurers, the same would happen to private building inspectors.
"The Minister says $4 million has been spent. That would not have been spent, at least not all of it, if private inspectors were involved. Right now, the Government is assuming all liability for construction in the Commonwealth of the Bahamas - not just government subdivisions, but the liability aspect for the private sector is huge, and should not be ignored," Mr Wilson said.