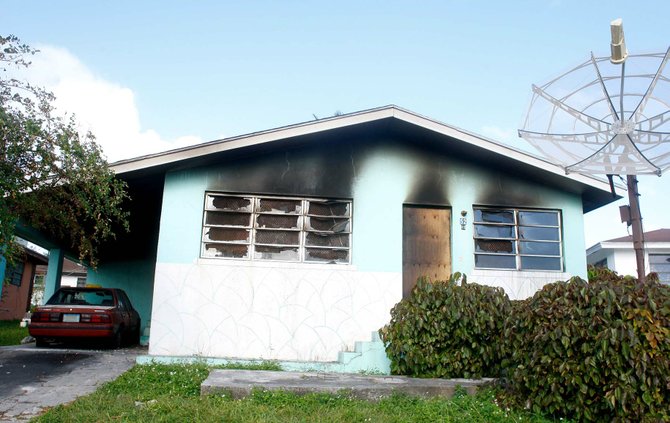 By SANCHESKA BROWN
Tribune Staff Reporter
sbrown@tribunemedia.net
AN ELDERLY man is fighting for his life in hospital today after receiving third degree burns following a fire at his Garden Hills home.
Laura Roberts, 67, said her husband, Perry Roberts, 66, was burned extensively on his face and hands while trying to escape the blaze that completely destroyed their home early yesterday morning.
Police say firefighters received information around 1am Monday that a house was on fire at Hyacinth Avenue, Garden Hills.
When they arrived they found the western section of a seven-room single storey, stone structure engulfed in flames.
The fire was brought under control within a short time and subsequently extinguished.
Mrs Roberts said she and her husband lost everything in the fire. She is just thankful to be alive.
"Our house completed burned down. I woke up suddenly in the middle of the night because I smelled smoke. My first thought was, why are my neighbours burning garbage at this hour, but then I noticed it smelt like iron. So I got up and opened the door and I saw sparks flying from the breaker box, then I noticed the chair was on fire," she said.
"I ran back into the room and woke my husband, screaming that the house was on fire. Then I ran outside. He was right behind me, but when I turned around he was gone. It took him a few seconds to come outside, but he was burned on his hand and face. The ambulance and the fire trucks came shortly after that."
Mrs Roberts said her husband is still in the intensive care unit at the Princess Margaret Hospital because of the extent of the burns.
Although there has been no official cause of the fire, Mrs Roberts said the house was old and she believes the fire may have been electrical.
Active investigations are continuing.
More like this story