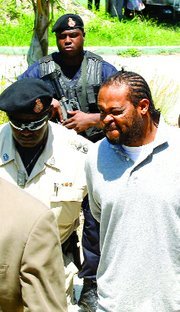 By LAMECH JOHNSON

Tribune Staff Reporter
ljohnson@tribunemedia.net
IT remains unclear when the second retrial of Stephen "Die" Stubbs and two other men in connection with the murder of an off-duty policeman will begin in the Supreme Court.
Yesterday, legal and pre-trial issues took up most of the proceedings as the jury pool, 12 of whom will be selected to hear the 13-year-old case, waited until the afternoon when Justice Roy Jones told them to return to court today.
For the second day in a row, access to the Supreme Court on Bank Lane was blocked by barricades and heavily armed policemen from various units, including SWAT, as 37-year-old "Die" Stubbs was brought before Justice Jones.
Stubbs, Andrew "Yogi" Davis and Clint "Russ" Evans face a charge of murder.
It is claimed that on March 13, 1999 the three men murdered Corporal Jimmy Ambrose.
Ambrose, working as a security guard on the day in question, was shot and killed outside the now closed Club Rock Disco on West Bay Street.
The three accused men stood trial in 2002 and were convicted.
However, they appealed the guilty verdict and death row sentence in the Court of Appeal, where a retrial was ordered.
The retrial occurred in 2004, but ended in a mistrial.
Nearly a decade later, Stubbs and his co-accused are being retried for the murder. Davis was the only accused person absent from court proceedings.
Stubbs is defended by lawyers Murrio Ducille and Jerone Roberts while "Russ" Evans has retained Ramona Farquharson-Seymour as his counsel. Ian Cargill represents "Yogi" Davis.
Court proceedings begin at 10am.