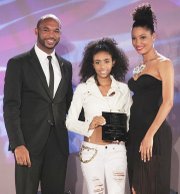 By JEFFARAH GIBSON
Tribune Features Writer
jgibson@tribunemedia.net

THE PEOPLE have spoken. Stylezine Magazine's People Choice Awards went to Theodore Sealy, Jamaal Rolle and Angelique Sabrina for their significant accomplishments in fashion, art and entertainment.
The winners were recently unveiled during Fash|Art 2012, an event to showcase emerging talent. The top five nominees in fashion, art and entertainment were selected by a secret panel of experts based on their consistency, talent and creativity.
Theodore Sealy, an established fashion designer, won the fashion category. On the first night of the event he debuted his 2013 "Above" fashion collection. He applauded efforts like Fash|Art that give designers, who would not have a chance otherwise to gain exposure.
"I am grateful to have won the award and it is good to know that I am highly favoured. Although I am excited I won, the event was more about the new generation of designers. I just wanted to view the emerging talent because I started somewhere and Runway to Fashion Week (a previous show) was my start in terms of getting my label off. I am happy to have won the award and in a few years some of the emerging designers will be the winner as well. I am happy to support efforts like this because small steps will grow and begin to blossom into something much more," he told Tribune Entertainment.
The award also came as a surprise to Bahamian artist Jamal Rolle, who is known for drawing portraits of the most famous celebrities when they visit the Bahamas. He has drawn portraits of celebrities such as Lebron James, Dwyane Wade, the children of Micheal Jackson, Keri Hilson, actress Gabrielle Union, Rev Al Sharpton and others.
One of his latest portraits was of Sir Sydney Poitier, which he presented to the Bahamian Hollywood icon during the renaming of the bridge ceremony.
Jamaal also said he was named a finalist for the Cacique Awards. "It is a good feeling to be recognised in a category I work so hard for. Art is something I love doing. I always knew I wanted to be an artist but I never ever thought I would have won an award for it," he said.
Angelique Sabrina Bahamian pop-princess said the Stylezine Magazine People's Choice Award only proves that raw talent, harnessed with practice and perseverance eventually pays off.
"It was amazing winning the award. I love putting hard work behind everything I do and to see the response from the people was just overwhelming," she said.
In the past few weeks, Angelique also reached a career milestone when she performed "Measure of A Man", a song she wrote for Sir Sydney Poitier, during the free Bahamian concert.
In an earlier interview with Tribune Entertainment, Sherron Young of Stylezine magazine said the organisation was happy to bring together artists of all disciplines to recognise them for the work they have done.
"It occurred to us that the journey to the forefront is a long and tedious one and one that few ever really survive. So we decided to collectively glove artists that have a real talent providing them an avenue of exposure or a nest to grow and nurture their craft. It brings us nothing but joy to know that we took part in the ultimate success of a true Bahamian talent,"she said.
Other nominees of the People Choice Award included Allan Wallace, Barry Williams, Leanne Russell, Rapp Quelle, The Illest Band, The Truth Band, Collage Dem Entertainment, Anthea Bullard, David Rolle, Derrica Willamson, and Latoya Moxey.
Voting for the award took place on Facebook.