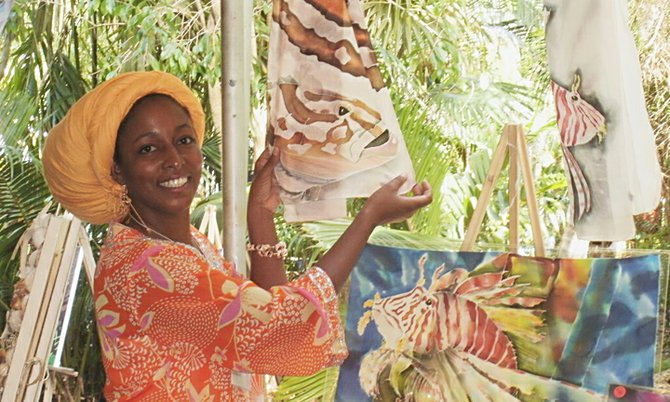 AS USUAL, the Bahamas National Trust's annual holiday celebration, the Christmas Jollification, will kick off on Friday, November 16 at The Retreat on Village Road with a special members evening.
BNT members are treated to a special evening which unveils the beautifully decorated Godfrey Higgs Pavilion, compliments of Jim Whitehead.
"We are very excited this year to have the jollification members evening sponsored by the John Bull Group of Companies in memory of Mrs Macushla Hazelwood, one of the original founders of this popular holiday festival," said Natasha Wright , BNT director of development.
"The evening is looked forward to by the members as they get to have a first viewing of the crafts as well as being treated to delicious hors' d'oerves by Alexandra and Co."
"We are especially grateful to our corporate sponsors: Bristol Wines and Spirits, Commonwealth Bank, John Bull, Caribbean Bottling, Asa H Pritchard, Bahamian Brewery and Beverage, Jim Whitehead and Bahamia Rental for their support," said Robin Symonette and Sally Varani Jones, chairpersons for this year's event.
"Their support makes it possible for us to continue this popular event. A very special thanks to Commonwealth Bank who have stepped up with real corporate participation as their staff will be manning the gate and providing banking services for the event."
The event is open to the general public on Saturday, November 17 and Sunday November 18 from 11am to 5pm.
The arts and crafts exhibition will feature more than 75 talented artisans presenting crafts, jewellery and gift items.
Linda Sands returns with her amazing cork work as does Linda Turtle with her stained glass ornaments and designs.
Yvette Jordan of Island Flava will have her original junkanoo dinnerware and unique jewellery will be offered by Pirates and Pearls.
Jennifer and Jonathan Bethel will present shell and driftwood creations as well as paintings.
Art makes a great Christmas gift and Trevor Tucker and Dion Lewis will also have a selection of original art, prints and ceramic jewellery on sale.
In recent years, the Jolly Market has become the most happening area of the Jollification.
This area features home made jams and jellies, cakes, jewellery, hand painted tiles and wonderful straw designs by a number of artisans.
Returning with their products made from the magical Neem tree are Abaco Neem.
If you are looking for presents for your pets then the Jolly Market is the place for you. Amanda Meyers and Lynn Gratton of LA Designs will have home baked treats for your special companion as well as special Christmas collars that any pet would be proud to wear on Christmas morning.
The Bahamas Humane Society will be on hand with ID tags which might help your pet find his way home in case he goes astray over the holiday season.
The Jollification Raffle will have a large number of very special gifts and if you love books, the Book Stall will provide hours of browsing pleasure.
No Festival at The Retreat Garden would be complete without a special Plant Area, and Christmas Jollification is no exception.
Flamingo Nursery always dazzles patrons with their unique orchids and the Potting Shed provides beautiful pottery, unique plants and anthurium orchids to decorate your house for the holiday season.
Additionally, The Retreat Committee will have a special selection of palms on sale for the discerning collector.

The Children's Crafts area sponsored by Asa H Pritchard will feature nature-oriented games and activities and also Christmas crafts.
While the kids are making crafts and mom is shopping, dad can chill out at the Mistletoe Lounge in the Pergola area of The Retreat.
Bristol Wines and Spirits and Bahamian Brewery and Beverage will have a sampling of holiday spirits and ice cold beers throughout the day.
No one goes hungry at the Jollification and this year features a variety of chefs who will be preparing Bahamian and international cuisine.
The ladies of Inner Wheel of East Nassau will have home baked goods, Hands for Hunger will have delicious soup and the Batter Girls will feature their famous conch fritters.
The Greek Othodox Church will provide patrons with mousaka, pastitsio, grilled lamb and everyone's favorite pastry – Baklava.
Phillipine Delights will provide an Asian flavour and for those who just want an old fashioned burger, the Nassau East Rotary Hamburger Van will be on hand.
Majestic Tours will be offering a special bus that will pick up people at the British Colonial Hilton at 11am and 1pm, and return from The Retreat at 2pm and 4.30pm.

"We hope that the event will be well supported this year. Many of our exhibitors work through the year preparing their crafts for the event and it is an excellent opportunity to shop for high quality Bahamian crafts," said Lynn Gape, BNT deputy executive director.