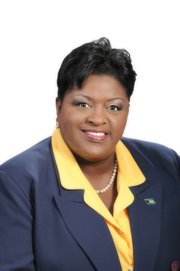 By JEFFARAH GIBSON
Tribune Features Writer
jgibson@tribunemedia.net
THE significant gains women have made over the years, and the untold stories of Bahamian women leaders will be the focus of two panel discussions to be held as part of the commemoration of the 50th anniversary of women's suffrage.
November is National Women's Month and the Bureau of Women's Affairs is hosting a number of events to commemorate November 26, 1962, the significant day when women voted for the first time in the Bahamas.
The first of two panel discussions will be held at the College of the Bahamas' Harry C Moore Library on Thursday morning. During this segment, two high school students, two college students and two professionals will discuss the significant gains women have made over the years and what women will need to going forward.
The second discussion will be held November 29, and will feature the stories of women leaders in various fields including business, religion and
politics. The speakers for this segment include Susan Blacke (business), Rev Carla Culmer (religion), Janet Bostwick (politics), Melanie Griffin, Minister of Social Services and Community Development, and Hope Strachan, State Minister for Transport and Aviation, also as leaders in the political field.
First Assistant Secretary in the Ministry of Labour and Social Development Christine Campbell told Tribune Woman the government hopes to target young
women with both panel discussions. She said rarely are the stories of women in different leadership roles heard, and during the panel discussion, people will hear what it is really like being a woman at the forefront of politics, business and religion in the Bahamas.
Additionally through the personal stories shared, Ms Campbell said young women who want to pursue a public life will know what to expect. She said there are many things women must consider when pursuing such a career.
"There are a lot of things people do not know that have to be considered. You have to make very informed decisions even in your personal life. You may even have to be careful who you intend to marry if you are pursuing a public life," Ms Campbell said.
"We want to create awareness and educate people so they can make wise decisions. Hopefully it will be a rich dialogue. We want women in all different fields to come out and share," she said.
Other events for National Women's Month included the release of a documentary on the women's suffrage movement by Director Marion Bethel; a
women's "Power Breakfast" that will be held on November 24 for "women to reminisce on where we have come from while charting a course for the
future"; an essay and poster competition for public and private senior high schools, and a ceremony in conjunction with the General Post Office
celebrating the issuance of the postage stamps.
The lecture series and panel discussion hosted by the College of The Bahamas, culminates with the Observance of National Women's Day on November 26.