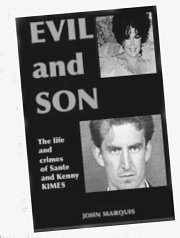 REPRESENTATIVES of killer Sante Kimes, who allegedly drowned a banker in her bath at her Cable Beach home, have given a new book about her life of crime a rave review on their social media website.
They have thanked its author, former Tribune managing editor John Marquis, for being "the first reporter to have the courage" to publish Mrs Kimes' side of the story.
The book, Evil and Son, covers Mrs Kimes' years in Nassau between 1992 and 1996 before she and her son Kenny set off on a con-and-kill spree across America which landed them both in prison for life.
The pair were said by Kenny to have murdered Cayman banker Syed Bilal Ahmed at their home after he arrived in Nassau to investigate banking irregularities.
Mrs Kimes was alleged to have been milking accounts of her dead husband, Kenneth Kimes Sr.
Mr Marquis and his barrister son Piers visited Mrs Kimes at a New York women's prison in spring, 2011. During a three-hour interview, she denied two murders for which she is now serving 120 years, and blamed her plight on a police conspiracy.
On the Facebook site of 'The Kimes Foundation For The Wrongfully Convicted', supporters praise the book's balance, even though it makes no attempt to excuse her crimes.
"Despite its ominous title, its author, John Marquis, has written a new book that has taken the fair, but usually unallowed, approach of allowing another side of Sante Kimes to be presented to the public."
They say the book "documents Mrs Kimes' direct response to the allegations that have plagued her reputation for the last 14 years", adding: "Thank you, Mr Marquis, for being the first reporter to have the courage to report the other side of Sante Kimes within your book."
From his home in England, Mr Marquis said: "Considering the book is quite hard-hitting, I'm surprised they liked it. However, I felt it important to include everything she had to say. The Foundation's organisers were very friendly and co-operative throughout."
Evil and Son is published by First Edition Press at firsteditionpress.co.uk