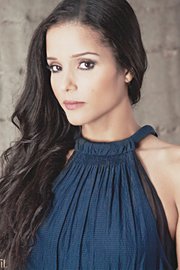 THE Bahamas International Film Festival announced today that actress Sydney Tamiia Poitier ("Death Proof", "The List"), daughter of Oscar winning American-Bahamian actor Sidney Poitier and actress Joanna Shimkus, will be honored with BIFF's signature Shining Star Tribute.
The announcement was made by BIFF founder and executive director Leslie Vanderpool.
The Festival's prestigious Shining Star Award is given to an actor or actress whose noteworthy performances have put them on the path for elite and lasting stardom in the industry.
Sydney Tamiia Poitier will be on hand for the special award tribute presentation on Saturday, December 8th at the Atlantis Theater on Paradise Island at 7pm.
Ms Vanderpool said: "Nobody embodies the spirit of BIFF's Shining Star Award more than Sydney Tamiia Poitier. She is one of the most gracious, exciting and multi-talented performers who excels in film and TV. We know the Bahamian community will embrace her and help us celebrate her past, current and, most certainly, future success.
"As anyone who has seen Sydney's collection performances can attest, Sydney is definitely one of the most gorgeous and talented actors who's star is shining brightly and rising rapidly."
BIFF 2012 begins Thursday, December 6 in Nassau and runs through Sunday, December 9.