By LESH
Tribune Features Reporter
acadet@tribunemedia.net
EVEN though "Diva Week" brought out the inner Whitney Houstons, Celine Dions and Tina Turners in the contestants, last Wednesday singers from two unlucky categories had to be sent home.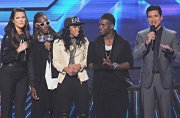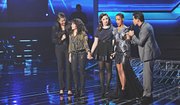 Carly Rose Sonenclar and Tate Stevens pushed themselves and showed viewers they have not maxed out their talents as yet. Some of the acts did not deliver enough and ended up in the bottom spots.
When the show began, hosts Mario Lopez and Khloe Kardashian wasted no time in getting straight to the point as they assembled all contestants on stage to hear the results. Viewers were in shock as they expected one act to be sent home, but it took a turn for the worst as it was revealed that two contestants would be sent home.
The first act of the night to be sent home was Lyric145, the group that performed "We Will Rock You" by Oueen. One of the members, Lyric Da Queen told viewers that she felt good, having had the opportunity to show what the group had to offer.
One of the highlights from last week's results show was a performance by pop star Taylor Swift. Taylor sang new singles from her album "Red." After her performance, she advised all of the contestants to simply "be nice to people."
Contestants Arin Ray, Vino Alan, Carly Rose, Diamond White, Tate, Emblem3, Beatrice Miller and CeCe Frey were all in the clear. They moved safely to the next round. Fifth Harmony was also sent through to the next round, leaving Paige Thomas and Jennel Garcia to sing for survival.
Jennel sang "The Reason" by Hoobastank and Paige sang Coldplay's "Paradise". Both performances placed Demi, the mentor, in the hot seat. The decision was too hard to make. Judges L A, Britney and Simon all agreed to keep Paige and send Jennel home unfortunately. Even though Demi voted against Paige, Jennel received less votes and she was sent packing.
The highly anticipated top 12 was simmered down to the top 10. Like the week before, the hosts revealed on stage the voting ranks of each contestant, from top to bottom. Tate, once again, received the most votes from America. Tune in tonight and tomorrow night to catch more of the X Factor USA.
Here's how the contestants are ranked according to the latest round of voting:
Paige Thomas -Young Adults
Arin Ray -Teens
Beatrice Miller -Teens
Diamond White -Teens
Fifth Harmony - Groups
CeCe Frey - Young Adults
Emblem3 - Groups
Vino Alan - Over 25s
Carly Rose Sonenclar - Teens
Tate Stevens - Over 25s