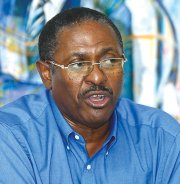 FNM chairman Darron Cash yesterday hit out at his PLP counterpart Bradley Roberts – whose Facebook banner outlined the financial benefits of legalising web shops.
With the controversial issue set to be put to a national referendum on January 28, Mr Cash said it was inappropriate for Mr Roberts to publicly take sides, as his party leader has clearly stated the PLP has no "horse in the race."
Prime Minister Perry Christie's assertion followed claims that some in the PLP were supporting the referendum as pay-back for campaign contributions from some web shop owners.
"What is also abundantly clear from the government members who have spoken in the House of Assembly," said Mr Cash, "is that they have dropped any pretence of indifference, they are clearly making the case for the passage of the referendum.
"The suggestion that they do not have a horse in the race is clearly untrue. They do have a horse in the race – they want the referendum to pass," Mr Cash said.
Hitting back at the FNM chairman, Mr Roberts said that if Mr Cash does not like what he has seen on Mr Robert's Facebook page, he can "lump it".
"I want to suggest to Mr Cash that he is attempting to fool with the wrong man," Mr Roberts said.
"I also want to say to Mr Cash that if he were to speak to some present Cabinet ministers he would know that they do not support gambling. That is their personal position.
"I also have my own personal position. What he needs to do is go and teach his leader how to use the Internet."
Mr Roberts said that he has nothing to hide in his support for the decriminalisation of gambling.
"This has gone from the ridiculous to the sublime. All these social ills we have in this country today, look at what these guys want to pick on. You can stand on the beach all you want, but you can't hold back the tide," he said.