By BRENT STUBBS
Senior Sports Reporter
bstubbs@tribunemedia.net
WHILE Kevin and Philip Major Jr both breezed through their first round matches in the main draw of the Goombay Splash ITF Junior Circuit Tournament yesterday, Danielle Thompson was taken to the limit before she prevailed with a victory to lead the Bahamian attack at the National Tennis Center.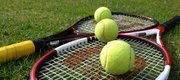 After being broken in the first game of the match against unseeded American Mikaela Pierce, No.5 seed Thompson rallied to take the first set 6-1. The pair battled through ties at 2-2 and 5-5 before Pierce held and broke to level the match with a 7-5 win in the second set.
But in the third and final set, Thompson (the top ranked Bahamian female player in the tournament) got back on track and jumped out to a 4-1 lead and returned the favour by closing out the match as she held serve and broke Pierce to seal the victory.
"The second set, she switched up her game a whole lot and she wasn't keeping me on the baseline where I'm extremely strong," Thompson said. "I had to come in where I'm not really strong at the net and she started to take control. So she won the second set. In the third set, I did what I did in the first set, trying to get every ball and keep her back so she couldn't take control of the match and that was how I took over."
Thompson, a 17-year-old who is transferring from one tennis academy in Orlando, Florida, to another in Tampa, Florida, said she's hoping to continue to play her game, stay consistent and hopefully she will be one of the top contenders for the title this year.
In an upsetting win on the girls' side, unseeded Bahamian Chelsi Russell ousted No.7 seed Melena Lopez of Barbados 7-5, 7-6 (5), but Bahamian Adrienne D'Alewyn went down 3-6, 6-3, 6-4 to Trinidad & Tobago's Kezla Koroma.
Kevin Major Jr, the top ranked Bahamian male player, didn't waste any time in his match against Ajani King from Barbados. The No.5 seeded player pulled off a 6-1, 6-1 victory over King in a match which he felt his opponent couldn't keep up with him.
"He just couldn't come up on the big points," Major Jr said. "Each set was pretty routine. I took the lead and just cruised."
The 17-year-old who is attending a tennis academy in Boynton Beach, Florida, said he wants to utilise his skills to get through the tournament as far as he can, hopefully as the champion.
Philip Major Jr, on the other hand, was more stingy in his 6-0, 6-0 upset win over Canadian No.4 seed Robert Shulman.
"It was pretty good. I played steady. I was focused on the match and it helped me to play solid as I normally do and helped me to keep my endurance," Major Jr said. "After I beat him 6-0 in the first set, I was more confident that I could do it again. I didn't change my game plan. I just stayed with what was working."
The 16-year-old student at a tennis academy in South Carolina said if he continues to play up to his full potential, he should have a very good showing in the tournament.
A number of Bahamian boys were also in action yesterday, turning in mixed results.
Grand Bahamian Rasheed Carey won in identical scores of 6-3, 6-3 over Julian Saborio, while Shannon Francis lost 6-0, 6-1 to Sinan Orhan, Treajh Ferguson lost to American Paul Thirouin 6-3, 6-4 and Nicoy Rolle lost to Canadian Laurent Mailloux 6-1, 6-1.
The boys' top seeded player, Jose Gil of Costa Rica, also had an easy showing as he eliminated American Eric Wagner 6-2, 6-1, No.3 seed Yannik James from Grenada came from behind to hold off American Sami Kierberg 4-6, 6-4, 6-3, No.5 seed Phillippe Courteau of Canada won 6-0, 6-1 over American Romano Livi and No.8 seed Josh Silverstein was a 6-0, 6-2 winner over Jody Maginley.
Also, American Klan McClean won 6-2, 5-7, 6-0 over Jyan Alanis of Mexico and Canadian Jesse Flores won 6-0, 6-2 over American Bernard Curry.
In other girls' matches, No.3 seed Alexandra Bourguignon of the United States stopped Ellana Arjona of Mexico 6-0; 6-0, No.6 seed Helen Abigail also of the US duplicated the straight set win over Dominique Coutain from Trinidad & Tobago, while No.8 seed Taylor Shukow knocked off Mexican Ana Coquis 6-0, 6-3.
And American Caltlin Bernard won 6-0, 6-1 over Natasha Esschendal, American Nicole Coopersmith won 6-0, 6-4 over Jennifer Quenard, American Tiffany Huber blanked Makalah Goodridge 6-0, 6-0, Aymet Uzcategui of Venezuela also blanked Kaile Finies 6-0, 6-0 as did American Zoe Spence over Juliet Campbell 6-0, 6-0 and American Polina Kiseleva was a 6-2, 6-3 winner over Paloma Martinez of Mexico.
The tournament is slated to continue 9am today with another series of matches.