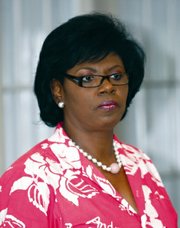 The Nassau Airport Development Company (NAD) has appointed Vernice Walkine as its first Bahamian chief executive, with effect from March 2013.
She will replace Stewart Steeves, who is set to become global vice-president of finance, and chief financial officer, for Vantage, the Vancouver-based operator of NAD.
In announcing Ms Walkine's appointment, Anthony McKinney, NAD's Board chairman, said: "Not only was Vernice the first Bahamian executive on the team in her role as vice-president of marketing and commercial development, she is the first woman to have the top job at our airport.
"Vernice joined NAD two years ago, and has added tremendous value to the company by reason of her many years of experience in tourism and all of its related sectors."
When contacted by Tribune Business yesterday, Ms Walkine declined to comment, saying it was too early to do so. She explained that her promotion would trigger other appointments within the NAD structure, and "there's a process to be followed".
After the Board made its decision on her appointment, Ms Walkine said it had wanted to inform NAD staff and the wider Bahamian public via the media.
George Casey, Vantage Airport Group's president and chief executive, added: "It has been a significant benefit for NAD and Vantage having Vernice on the team for two years while the new terminals were being built.
"Now she will bring her particular talents to the operation, management and customer service delivery excellence, which will make Lynden Pindling International Airport the premiere airport in the region."
Mr Steeves guided the entire $409.5 million airport redevelopment project from the initial RFP (request for proposal) process through to securing all the project financing and construction of the two completed terminals, and start of the third.
He began his career at NAD as chief financial officer, before moving on to project director and then president/chief executive.