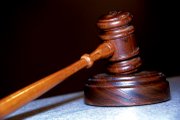 THE trial of a former student union leader accused of disorderly conduct in the computer lab of the College of the Bahamas' library has been set for December 11.
The prosecution is expected to present witnesses testifying about the alleged actions of 22-year-old Renbert Mortimer.
Mortimer faces six charges in total, including disorderly behaviour, assault, abusive language and resisting arrest.
It is claimed that on February 2 of this year, he acted in a disorderly manner, used abusive language toward security and police officers, resisted arrest and assaulted a police officer and security personnel.
He denied the charges and pleaded not guilty.
ASP Ercel Dorsett is prosecuting the case while Mortimer is defended by attorney Elliot Lockhart.
Deputy Chief Magistrate Carolita Bethell is presiding over the trial.
Mortimer is on $5,000 bail.