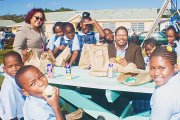 FREEPORT – Last week, Minister of Education Jerome Fitzgerald toured improvements to East End schools and a visited a media centre donated by the Grand Bahama Shipyard.
Students and staff at the East End Preschool and Primary School (formerly Freetown and High Rock) greeted the minister and other dignitaries.
Ed Pavey, director of technical and planning at the Grand Bahama Shipyard – who, along with his colleague Creighton Moxey and several apprentices, helped co-ordinate the enhancements at the schools – organised the tour.
"The accomplishments that we are celebrating today were made possible by the initiative of the Grand Bahama Shipyard along with the support of its many corporate partners, both local and international," said Mr Pavey.
Minister Fitzgerald was treated to a song and video slide-show by preschool students, then viewed the new lunch tables, water coolers, cubby storage centre, and the major refurbishments to the playground.
He then travelled to East End Primary in High Rock and had a live video conference with Ms Chambers of St Bonaventure College, New York, in the new media centre.
Ms Chambers and the ministry's Sophia Rahming explained that for the centre, constructed via the 21st Century Project, the Shipyard donated four smart boards, four desktop computers, document scanners, iPads, a wireless tablet, Kindles, five water coolers, picnic tables and paint.