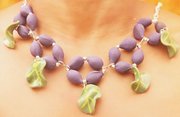 By ALESHA CADET
Tribune Features Reporter
acadet@tribunemedia.net
UNDER the slogan "Reaching Into A New You" always in mind, local designer Ria 'Ri Nu' Newbold's authentically hand sculptured jewellery and fashion accessory line is growing stronger year to year.
Inspired by Bahamian fruits including seagrapes, sugar apple, hog plum, scarlet plum and tamarind, Ms Newbold said all pieces are made by her personally. She said it is a process that is very tedious and time consuming.
"There are some pieces that maintain the inspired fruit colour and texture. However, there are some pieces where the colours are different. But the shape of the inspired fruit remains the same. I have also made some of these same shapes with the colours of the Bahamian flag: gold, aquamarine and black," said Ms Newbold.
Under the Ri Nu label there are three collections: The Roslyn Collection (beads with focal pieces), The Annie Collection (hand sculptured beads) and The Mae's Collection (hand sculptured beads with freshwater pearls).
The collections are all named after special women in the life of Ria. Roslyn Hanna is the name of her maternal grandmother, who presently resides in Acklins. Annie Butler is the name of her paternal grandmother, who died in July. Anna Mae Butler is the name of her mother, who has been a pillar of strength, especially since her father died when she was 13 years old.
"I was inspired to get started after I realised that many persons were into jewellery making. However, there was nothing that made the beads themselves unique. Therefore in 2010 I started my research process which led to many stages of trial and error, while being closely critiqued from both family and friends alike," said the designer.
Most of the pieces are made one of a kind (OOAK), said Ms Newbold. That is the preference of many clients, she said.
Speaking about her slogan, Ms Newbold said it speaks to an individual, allowing a brand new idea or concept of jewellery to come alive in their minds and become a part of them.
"Often times we settle for what it is we see others doing; however, the time has now come for us to think outside of the box and tap into the many gifts and talents that God has given. This will push us into birthing unimaginable concepts and ideas. This is the time for us as a people to allow God to put his super on our natural and cause the supernatural ability of God to come forth," said Ms Newbold.
Even though making her jewels may be a difficult task, Ms Newbold said she loves the idea of being able to do something different with each piece she creates.
"I learned the basics of jewellery making locally. But I taught myself through trial and error with ideas from the Internet on how to make the fruit inspired pieces," she added.
In addition to her jewellery art, Ms Newbold said she enjoys being a wife, mother, preacher, banker and author. She is the author of "It's Time to P U S H - Be Persistent Under Supernatural Heat and Give Birth to Your Ministry". Ms Newbold is also a toastmaster serving as Area 63 Governor.
The "Ri Nu" collection will be on sale at the Bahamas Christmas Arts Festival hosted by the Antiquities, Monuments and Museums Corporation on December 1.