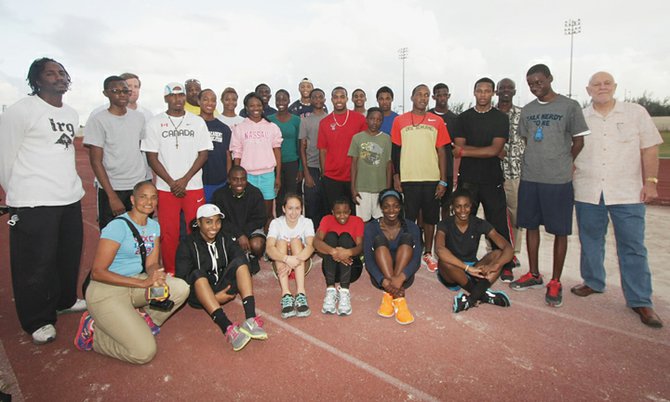 By BRENT STUBBS
Senior Sports Reporter
bstubbs@tribunemedia.net
HE was recognised as far as Saudi Arabia for his coaching expertise. Now the United States of America is taking advantage of what Peter Pratt has to offer.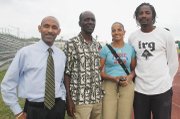 Back for their second consecutive year, the National Scholastic Athletics Foundation (NSAF) brought a group of athletes between the ages of 15 and 18 from six different states to participate in the Jumpers Inc's Jumpers Coaching Clinic at Thomas A Robinson Track and Field Stadium last week.
The clinic was conducted by Pratt, assisted by Antonio Saunders. Additionally, two competitors from Bermuda and the Turks & Caicos Islands also joined a line of Bahamians who took part in the three-day event.
While the clinic was primarily held at the TAR Stadium, the jumpers also attended sessions at Goodman's Bay and Government High School. And as a form of their cultural exchange, the participants visited the Bay Street straw market.
Pratt said next year, they intend to host the clinic in Grand Bahama where Gladstone 'Moon' McPhee and Norris Bain have already done the ground work to facilitate the group.
"This has been a wonderful experience for us, for our association, for our foundation and for the young athletes that we brought out here," said Joy Kamani, the chief operations officer and legal counsel for the NSAF.
"Mr Pratt is a jewel. I don't know if you all understand how important he is for us. He's so respected worldwide. That is why we decided to bring our athletes down here to learn from him. This is our second year coming and we hope to come back in the future. Hopefully we will also get him to come up to the United States and do some additional clinics for us. The kids have learnt a great deal from being here."
Jim Spier, the director of athletics for NSAF, said they developed the bond with Pratt and Jumpers Inc because they realised that the triple jump and the javelin were two of the areas that the American junior athletes were lacking and so they decided to try some coaches to assist their athletes.
"We got directed to Mr Pratt and that is why we're here. We feel we are making progress," he said. "We run the national high school indoor and outdoor meets and we've been fortunate to fund those projects through those meets. But it's important that these athletes are here to gain experience from a great coach and from the international stage."
Charles Gray, one of the parents making the trip, said that the school that his daughter attends in Boston doesn't have the coaching expertise in the triple jump, so they decided to sign up to participate in the clinic.
"She's new to the sport and she's learning it," he said. "This has been very helpful in her getting to know the technical event. So you need very talented coaches to make the athletes better."
And Cedric Walker, a board member of NSAF, thanked the Bahamas Association of Athletic Associations, headed by Mike Sands, for allowing them to come to the Bahamas for the clinic. He said that hopefully in the future, they will be able to participate in the new stadium.
"But the specific reason why we're here is to teach people how to triple jump," he said. "We have a country of 300 million people. You have a country of 300,000 people. But yet you out triple jump us. It's because of this man here, so we want to come here and learn from him so we can become just as Welcoming the visitors, Sands said they were instructed by one of the best in the business in Pratt, whom the Bahamas is very proud of.
"We are very, very proud to have coaches like Peter Pratt because at the end of the day, the programme is successful because of coaches like Peter Pratt who produce the athletes and in turn makes the Bahamas proud," Sands said.
"We are pleased to note that the Bahamas has just received accreditation as a training center and so what coach Pratt is doing now will only add to the status that we have achieved and we will produce many other triple jumpers as we stay on the cutting edge of technology."
Some of the athletes who participated in the clinic said they were pleased with what they were taught.
"This camp has been a lot of help. This is my first year triple jumping, so I learnt a lot every single day and I hope to retain a lot to help myself in the triple jump," said Marshay Ryan, who hails from Pennsylvania.
Jayelen Spencer of California said the camp was beneficial for him because he "got to learn from Mr Pratt, who is one of the best in the world. I'm thankful that I was afforded this opportunity so that I can better myself in what I do."
Anasterasia Terrell from Georgia thanked all who made it possible for her to make the trip to the Bahamas.
"It has been really beneficial to me because I feel like I'm really improving on my phases of the triple jump," she said. "So thank you."
MacKenzie Gray, who came from Boston with her father, said she had a lot of fun and "learnt a lot about the triple jump."
"I've only been doing it for a year, so I thought it was a good experience to come here and learn more about the technique."
Kendino Adderley, who came in from the Turks & Caicos Islands, said that while his specialty is the long jump, he learnt a few things that he hopes will at least make him better because the triple jump is an event that "you really have to be properly prepared for to compete in."
And Talbot McKinney, a member of Jumper's Inc for the past three years, said when he got started, he was doing the long jump, but he's now focusing on the triple jump and "the camp has been beneficial for me because even though I've been under him for three years, I'm learning something new every day. So hopefully I will get better and you will see me on the national stage soon."
Pratt, a member of the Bahamas Talent Search Committee, said he will be going into the Family Islands to look out for the "diamond in the rough" and if there are any coaches with athletes that need refining, he encourages them to get in touch with the BAAA office.
"If there are any parents out there as well who believe that their children, who are in grade 11 and 12, are good enough to go to college, please get in touch with the Parent Association of the BAAA, who are actually trying to seek scholarships in the United States for student athletes."