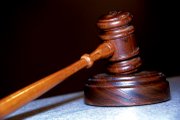 PROSECUTORS in a 13-year-old murder case adjourned to May 2013 for retrial intend to make an application before a judge on December 11 regarding media coverage in the lead-up to the high-profile trial.
Yesterday, in a fixture hearing before Justice Roy Jones, the prosecution raised concerns about recent reporting of a case in which Stephen "Die" Stubbs, Andrew "Yogi" Davis and Clint "Russ" Evans are accused of the murder of an off-duty policeman.
Stubbs is defended by lawyers Murrio Ducille and Jerone Roberts while "Russ" Evans has retained Ramona Farquharson-Seymour. Ian Cargill represents "Yogi" Davis.
It is claimed that on March 13, 1999, the three men murdered Corporal Jimmy Ambrose.
Yesterday morning, the prosecution claimed media had misreported some facts.
It was argued that if not dealt with, such mistakes could have a prejudicial effect on the jury.
The prosecution asked Justice Jones to order that the print and broadcast media be allowed to report only on the adjourned date for trial, and nothing relating to the history of the case.
Mr Ducille said he shared similar concerns, though his colleague Mr Roberts said the court should not be hasty in granting such an application without all media houses present.
Justice Jones stood the matter down to December 11, 2012, when he will hear the prosecution's full application.
Meanwhile, Stubbs was remanded to Her Majesty's Prison. His co-accused are on bail.