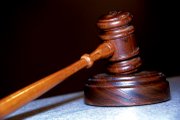 ONE of three men accused of armed robbing a laundromat earlier this year was granted bail in Supreme Court yesterday.
Senior Justice Jon Isaacs granted a $15,000 bond to 24-year-old Benjamin Ramsey.
Ramsey and two other men, Michael Johnson and Jevano Forbes, both 21, were charged in April of this year with one count of armed robbery.
The trio are accused of committing and conspiring to commit the armed robbery of Select Wash Laundromat on March 12. An employee was held up and robbed of $250 belonging to the establishment.
Their case is being fast tracked to the Supreme Court.