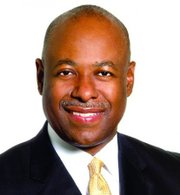 By NATARIO McKENZIE
Business Reporter
nmckenzie@tribunemedia.net
THE Government is looking at new legislation to promote the timeshare industry in the Bahamas, the minister of tourism arguing that an "across the board" focus was necessary in the tourism industry.
"We are brining new legislation now that would cause the time share industry to become even more attractive," Obie Wilchcombe told Tribune Business.
"We have to ensure that we are competitive and look at how our timeshare system has worked, and what the law says at this time. We have had some recommendations, we have even been talking to some hotel developers and some timeshare operators, and we are considering new legislation.
"In fact, we passed the legislation on for consideration right now. We passed it down to our legal department to look at right now."
Mr Wilchcombe added: "We have to understand that tourism is diverse. There is cruise, pleasure craft, hotels, condos and, of course, the timeshare business.
"We have to be able to offer in all areas to make sure the picture is better. If you are only focusing on one area then the other areas are going to suffer. We have an across the board focus on all the areas that relate to the tourism industry."
Mr Wilchcombe added that group bookings were expected to see an increase in 2013. "I can tell you that we already have bookings for September, October and November next year because we are operating under the premise that tourism is year round," he said.
"We have already got major bookings in the capital city and Grand Bahama, and the whole idea is to make sure that we get more of that business all over the country."
Mr Wilchcombe said: "There are a number of groups already booked for next year. We have seen an increase.
"We also want to see more money being spent, and we believe that we are going to have a better 2013, although 2012 is likely going to end pretty decent. But I think we are going to be on more solid ground next year based on the bookings already in place and the major events that will happen next year."