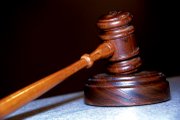 THE absence of attorneys yesterday caused a delay in the trial of a man accused of stabbing a prison officer to death.
Presley Humes, 37, of Faith Avenue, will now stand trial tomorrow in connection with the death of Juillian Strachan.
Strachan, 37, of Belldock Avenue, was stabbed multiple times at the Carmichael Liquor Store on Friday, July 9, 2010.
He was taken to hospital by ambulance where he later died of his injuries.
The matter was expected to proceed yesterday, but prosecutor Koshcina Marshall and defending attorney Alfred Gray were both absent.
It was explained to Justice Bernard Turner that both were in Freeport.
Justice Turner put the matter down to Wednesday, October 3.
In other court news, prosecution against two men accused of murder will begin for a third time in Supreme Court.
Crown Prosecutor Linda Evans alleges that Jamal Armbrister and Jacob Woodside caused the January 26, 2007 death of Emico Russell, a nightclub security guard.
Armbrister and Woodside are claimed to have shot and killed Russell at the Fantasy Lounge in Palmdale.
Armbrister faces a second charge of murder. It is claimed he also fatally shot Sherwin Miller Jr in the head shortly after Russell's murder.
The matter is before the courts again due to Justice Roy Jones declaring a mistrial in June 2011.
The mistrial came as a result of police not complying with a court order to remove prejudicial statements from videotaped interviews of the defendants – statements that were heard by the jury when the video was played in court.
The matter is scheduled for 10.30am.