By LAMECH JOHNSON
Tribune Staff Reporter
ljohnson@tribunemedia.net
THREE men of the cloth were arraigned in Magistrate's Court yesterday accused of misbehaving in church by getting into a scuffle on the pulpit following a succession battle for leadership of the church.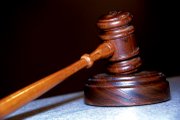 Bishop Michael Symonette, church minister Levano Moss and church board member Zendal Stubbs appeared before Chief Magistrate Roger Gomez in Court No.1 on a charge of disorderly behaviour in a place of divine worship, Ebenezer Baptist Church.
It is claimed that the three on Sunday, September 23, behaved in a disorderly way at the St Charles Vincent Street church during the service.
The altercation reportedly occurred around 8am, minutes into the service following the announcement that Symonette was chosen over Minister Moss by church members to succeed his late father, Bishop Elkin Symonette, as bishop.
At yesterday's arraignment, all the men denied the accusation and pleaded not guilty.
The police prosecutor did not object to bail.
It was at this point that lawyer Michael Kemp, representing Moss and Stubbs, addressed the court.
"These are all men of the cloth," he said. "I'm sure that the sundry of the church would appreciate that the matter be heard as early as possible.
"I'm prepared to defend this allegation within a fortnight," he added.
Magistrate Gomez said he would have to recuse himself from the matter and reassign it to another magistrate.
Symonette's attorney, Ramona Farquharson-Seymour, acknowledged Mr Kemp's point and then addressed the issue of bail, asking that the accused could "perhaps be granted bail of their own recognisance."
"At least with respect to my client, he is certainly not a flight risk" she added.
Mr Kemp said bail aside, the question surrounding the entire matter is, "Who is the minister of this church?"
Chief Magistrate Gomez answered that many have advised that the matter be taken to the Supreme Court.
"The Supreme Court will have to decide that. It is beyond the Magistrate's Court," he said.
The chief magistrate then offered to send the matter to Court No.10 before Magistrate Guilimina Archer. However, Mr Kemp requested another court, pointing out that that court is overburdened with a number of cases.
He also claimed that lawyers have to wait more than a year to receive trial transcripts, sometimes even longer.
"There are only two courts that seem to get transcripts out quickly, Courts 9 and 8," Mr Kemp said.
Chief Magistrate Gomez maintained that the matter would be sent to Court 10 for mention. He said he would speak to that Magistrate concerning whether or not she could take on the matter at this time.
He also noted that he would make the matter urgent in the event that it was reassigned to any of the other Magistrates due to the nature of the situation.
Both lawyers were pleased with this decision, Mr Kemp adding that "the longer the thing lingers, the devil is busy."