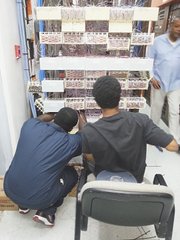 BTC has pledged another $60m to upgrade landline services - close on the heels of a $40m+ investment that led to an 800 increase in data usage. The company hopes to create the nation's fastest internet service with the investment.
BTC is deploying door-to-door sales forces to inform customers and demonstrate improved landline and faster internet service. Teams are focusing on businesses and in both commercial and residential cases, completing standard internet and phone installations in one day that used to take up to a week.
Speaking to more than 120 business and civic leaders at the 9th Annual Abaco Business Outlook on September 26, BTC CEO Geoff Houston said that inspiration for the campaign was the "overwhelming positive response" to an improved cellular platform.
He said: "What we saw when we upgraded our mobile offerings was an almost insatiable appetite among Bahamians for the latest devices, the fastest downloads, the newest, the best.
"When we launched 4G (the fastest download speeds available worldwide), mobile voice traffic increased by 60%. Mobile data was up by 800%. Before we upgraded, 3% of our sales were smart phones. Today, nearly half of all our phone sales are smart phones."
Using that as a benchmark, Houston said that while the company would continue to focus on mobile, it would invest multi-millions to create "the fastest internet in the region".
"Six months ago, we were accessing the internet with two gigabits of capacity and we were doing that through a link to Miami," said Houston.
"It was like trying to suck an elephant through a straw.
"Today we are investing more than $60 million to build an infrastructure that will enable long-term development and handle growing demand because the interesting thing is the faster the speed we provide, the more demand there is.
"The Next Generation Network will increase speed by as much as four times and when we are done, there will be real competition in the internet market and we in The Bahamas will have the fastest Next Generation Network in the entire region."
According to Houston, the project is employing 50 construction and technical workers at various sites, moving between islands.
Among the tasks is replacing 20 year-old radio systems and in some cases, 50-year-old underground cable.
"What we are doing is accomplishing in 18 months what under normal circumstances would take four to five years to complete," Houston said.
"When we are done, customers will enjoy a better overall experience with internet and landline service."
The work includes excavation, ripping out old, antiquated massive cables and replacing them with fibre optic. On more than 50 occasions, work has been disrupted by heavy equipment connected with the road works project tearing up underground cable, causing crews to be diverted for rebuilding infrastructure and reconnecting service."