By CELESTE NIXON
Tribune Staff Reporter
cnixon@tribunemedia.net
EDUCATION Minister Jerome Fitzgerald announced that three pre-schools will be constructed in North Abaco over the next four years.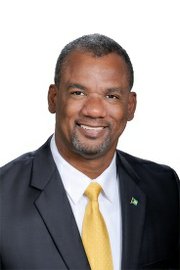 Following the country's first Cabinet session outside New Providence on Tuesday, Mr Fitzgerald identified three areas of education that "need attention" in Abaco, including the construction of pre-schools, allocation of additional scholarships to Family Island students and increased technical and vocational training.
"When I came to Abaco in June I realised there were no pre-schools in North Abaco at all and at that point instructed members within the Ministry of Education to draw plans and locate locations for pre-schools to be built," he said.
Three pre-schools with be built in North Abaco over the next four years, with construction beginning early next year, Mr Fitzgerald added.
With new developments in the works for Abaco, he said more than ever technical and vocational studies must be expanded to meet the demand.
"As a result of the developments that are going on here there is a great need for skilled labour – so we have commenced the expansion of BTVI within Abaco to ensure persons are trained and able to be employed in these areas that will be needed in the very short future," he said.
"We are very pleased with the assessment here and the plans we have undertaken in order to address the needs for Abaconians."
Speaking on the Abaco school repairs completed over the summer, Mr Fitzgerald said $200,000 was spent on necessary repairs on the island, particularly to Abaco Central High School and Central Abaco Primary School.
"Many of the principals have commented that this is the best complement of teachers they have had in a very long time, so we are very pleased with the level of education, the level of staffing and the commitment of the administrators and district superintendent and teachers," he said.