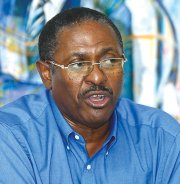 By NATARIO McKENZIE
Tribune Business Reporter
nmckenzie@tribunemedia.net
BEC's $105 million Wilson City power plant was yesterday described as an "exercise in bad governance", Progressive Liberal Party (PLP) chairman Bradley Roberts telling Tribune Business that no rational reason had been given for the plant's removal from the preferred Snake Cay site.
Speaking with Tribune Business yesterday following a recent decision by the Court of Appeal, which ordered BEC to engage in "full and proper public consultation" over the operation of the new plant, Mr Roberts called the entire decision to change the plant's location to Wilson City "stupid".
"That plant there is an exercise in bad governance, total absolute bad governance," he said in a blast at the former Ingraham administration.
"The entire decision to change the location to Wilson City was stupid. It's costing BEC right now more more money to operate that plant because they have to transfer fuel over land to Wilson City, whereas the initial location would have been closer to water and they would have been transferring the fuel by pipeline to the power station.
"As a result of that, it is putting further burden on BEC and the taxpayers. The power plant that was installed was so long delayed that it caused a ton of problems to the people in Abaco," Mr Roberts added.
"It is still not properly installed, and they are running the old plant and the new plant at the same time. I was minister responsible when that new power plant was approved and the deposit made, then the Ingraham administration came to power and held it up.
"It was moved with no research or anything done. It was just a rash decision. The plant was finally constructed and ready to go when they discovered they hadn't put in the transmission lines, and then it was discovered that further work was needed. It's one bloody nightmare. It was a stupid decision to change it in the first place, no rational decision was given."
The 2005 decision, taken by the first Christie administration, had initially proposed siting the new BEC generation plant at Snake Cay.
But, according to RDA's lead attorney Fred Smith QC, the Ingraham administration changed the location to Wilson City to accommodate a proposed resort/real estate development earmarked for Snake Cay - a project that has yet to materialise.
In overturning Supreme Court Justice Hartman Longley's ruling that dismissed Responsible Development for Abaco's (RDA) Judicial Review application, the Court of Appeal found "there was no adequate and meaningful consultation relative to the location and construction" of the Wilson City power plant by either BEC or the Government.
Court president Anita Allen, in her October 1 ruling that was backed by all three judges, agreed that a September 10, 2009, meeting on the Wilson City power plant presented the project as a 'fait accompli'.
And she added that it was "a reasonable inference" for RDA to conclude that BEC's decision to change the fuel type, and abandon plans for a fuel pipeline, resulted from "the pressure exerted by... the Judicial Review proceedings" rather than any public consultation.
Given that the Wilson City plant is now constructed and operational, the Court of Appeal said it would "serve no useful purpose" to grant RDA's demands - that it not be built at all - in full. Instead, it ruled that consultation be limited to the plant's ongoing operations and previous approvals that were only granted 'in principle'.