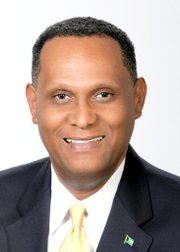 BY DENISE MAYCOCK
Tribune Freeport Reporter
dmaycock@tribunemedia.net
FREEPORT – Minister for Grand Bahama Dr Michael Darville announced that a new state-of-the art hospital will be constructed in Grand Bahama during the PLP's term in office.
The announcement came at the official opening of the Grand Bahama Medical and Dental Association's Conference at the Pelican Bay Resort yesterday.

Dr Darville said the Rand Memorial Hospital was not able to meet the demands of the growing public in Grand Bahama.
"There is no question that residents of Grand Bahama have outgrown the RMH. And if the truth be told, despite upgrades done by the last administration, the facility is still lacking and does not meet the necessary requirement to implement the government's plan for state of the art healthcare delivery, or provide a vehicle necessary to drive the lucrative medical tourism product," he said.
"Therefore, in the response to our research and finding, this administration is committed to constructing a new state of the art hospital on GB during our term in office."
Minister Darville said the government would employ Bahamian contractors to build the hospital, and upgrade all existing clinics throughout the island.
He commended former health minister Dr Marcus Bethel, who paved the way for land preparation necessary for the construction of the new hospital under the last Christie administration.
The minister said the government was committed to ensuring that public healthcare facilities were adequately staffed with medical professionals.

As part of their plan to prepare for the expansion of the RMH and PMH, Dr Darville said the government had increased funding for training nurses and other health care professionals.
The minister for Grand Bahama also said the government was committed to the implementation of national health insurance.
The 12th annual medical conference is being held under this year's theme: 'Women's Health, the Heart of the Matter.'
The conference has a Gala Awards Banquet at Grand Lucaya Resort on Saturday.