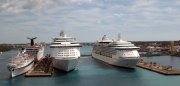 By NEIL HARTNELL
Tribune Business Editor
nhartnell@tribunemedia.net
A senior Ministry of Tourism official yesterday said the Bahamas was "on pace" for total 2012 tourist arrivals to finish 6-7 per cent ahead of last year, with visitor numbers around 5.6-5.7 million "or higher".
Gary Young, the Ministry's senior director of research and statistics, told Tribune Business that initial reports from the hotels indicated that stopover visitor numbers for September-October, normally the slowest period in the Bahamian tourism calendar, were "a little ahead" of his expectations.
He attributed this to the impact of the air fare credit programme's reinstatement, which had not only boosted New Providence resorts but was now having a positive effect on the Family Islands.
"I think we're still on a pace to be up 6-7 per cent for the year in terms of total arrivals," Mr Young told Tribune Business. "That looks pretty good so far.
"We'll be over five million visitors, no problem. We'll be probably somewhere around 5.6-5.7 million at least, possibly higher. It depends on what happens with the cruise side."
For the year to end-July 2012, Ministry of Tourism data, which is based on the manual count of Immigration cards and does not account for multiple entries by the same person, showed total arrivals to this nation were up by 8.1 per cent year-over-year at 3.67 million, compared to 3.394 million for the same period in 2011.
For the first seven months this year, the higher-yielding air arrivals (stopover visitors) were ahead 8.6 per cent at 895,187, compared to 824,144 last year.
On the cruise side, for the same period passenger numbers were ahead 8 per cent at 2.775 million compared to 2.57 million for the first seven months in 2011.
It can be dangerous, though, to play the so-called 'numbers game' when it comes to Bahamian tourism and the industry's health.
While arrivals and occupancies are up, the Bahamas Hotel Association (BHA) has continually pointed out that the Nassau/Paradise Island resort sector's room rates and yields remain depressed. Prices have yet to return to pre-recession levels, due to a combination of market conditions, travellers seeking 'discount deals' and lower cost competitors that are able to slash rates by greater amounts.
Still, looking ahead, Mr Young told Tribune Business that hotel industry indicators had remained positive throughout September and October.
While the sector looked set to enjoy a reasonable 2012 fourth quarter, which contains the Thanksgiving and Christmas holiday periods, Mr Young acknowledged - as have many hoteliers - that a potential unknown is the early November US presidential election and its impact on travel plans.
"They're moving quite strongly," Mr Young said of initial industry numbers for September and October. "They're a little bit ahead of where I thought they'd be.
"There are good reports coming from the industry in Nassau for September-October. There seems to have bene good signs of growth in Bimini. And they've at least maintained numbers in the Family Islands.
"Moving into September, I'm hearing in Nassau that there's been a very good impact from the air fare credit we're offering. Yesterday, I was hearing from the Out Islands people that it was having an impact as well.
"We're going to be on a par with last year at least for those months [November and December], and September and October will be up."
But while the Bahamas seemed to enjoy a strong winter/Spring season, and largely continued this momentum into early summer, this seemed to taper off in July.
Total arrivals for that month actually declined by 0.5 per cent to 486,426, as opposed to 488,735 the year before. This was largely driven by a 1.1 per cent fall in sea arrivals, which dropped from 348,475 in July 2011 to 344,671 this time around.
Air arrivals for July were up 1.1 per cent at 141,755.
Breaking it down by island, for the seven months to end-July 2012, total air arrivals were ahead by 9.7 per cent at 682,946 compared to 622,581 the year before.
Cruise arrivals to Nassau were ahead 13.2 per cent at 1.289 million as opposed to 1.138 million the year before. As a result, overall New Providence arrivals were ahead year-over-year by 12 per cent for the first seven months at 1.971 million.
Grand Bahama, though, saw a 0.1 per cent decline in total arrivals to 523,575. This came on the back of a 14.4 per cent increase in air arrivals to 71,775, compared to 62,730 the year before, but cruise arrivals were off 2 per cent at 451,800.
As for the Family Islands, total arrivals were ahead 5.9 per cent at 1.175 million, driven largely by a 6.5 per cent increase in cruise passengers to 1.034 million from 970,642 during the same period in 2011.

Air arrivals to the Family Islands were up by a smaller amount, 1.2 per cent, to stand at 140,466.