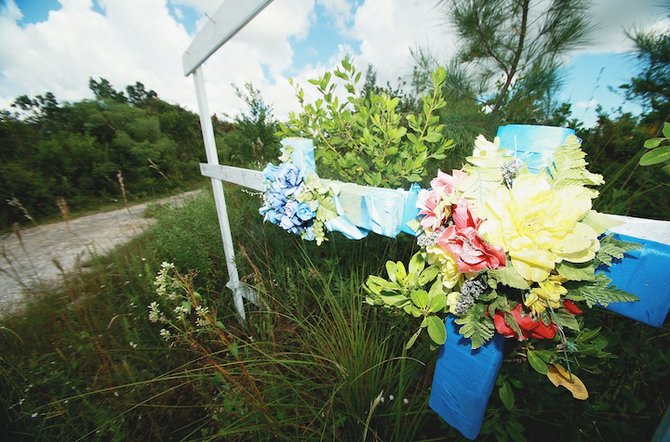 By SANCHESKA BROWN
Tribune Staff Reporter
sbrown@tribunemedia.net
YESTERDAY marked the second anniversary of the plane crash that many have described as the worst air disaster in Bahamian history.
On October 5, 2010 nine men died when a Cessna aircraft, headed for San Salvador for the Discovery Day weekend festival, crashed into waters at Lake Killarney.
Seven of the victims died on impact, with one dying on the way to the hospital. The last victim's body was found three days later some 200 feet from the crash site.
An investigation into the flight revealed that the twin engine plane was 523 pounds over the maximum weight allowed before takeoff.
There was no cockpit voice recorder on board the plane so investigators had no idea what conversation took place between the men during their last moments alive.
However, investigators speculated that Nelson Hanna, the pilot, became confused moments before the crash causing him to turn off the wrong engine.
The report said: "The experienced and competent pilot was confronted with an unenviable emergency at a critical stage of the flight. A number of potentially causing cues may have led to him misidentifying the partial loss of power from the left engine and secured the right engine. The time for him to correct it was short. With the left engine problem persisting and the right engine secured and not producing thrust at this time, the reduced thrust of the left engine was insufficient to maintain lift. The aircraft stalled became inverted which resulted in a steep nose dive in the lake."
A toxicology report found Mr Hanna also had an over the counter drug, salicyate, in his urine however it could not be determined if this was enough to impair his judgment.
A memorial service for the victims was held at the crash site last year. The victims of the crash are Clarence Nataniel Williams, 38, Chet Johnson, 38, Corey Farquharson, 41, Nelson Hanna, 43, Junior Lubin, 23, Devon Sotrr, 27, Chanoine Milo, 44, Delon Taylor, 28, and Lavard Curtis 26.