YOUR SAY
By CHRIS MORTIMER
Deputy Leader, DNA
THE mission statement of Bahamas Electricity Corporation is to provide a safe, reliable and cost effective source of power throughout our archipelago.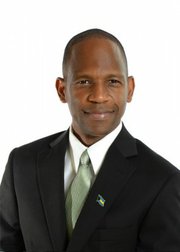 However, today, consumers throughout our country question this notion of "cost effective electricity."
With each passing day, families and businesses buckle under the weight of enormous, overpriced electricity costs. It's disheartening to see that the Bahamian consumer continues to be in desperate need of major relief from the economic shackles on their lives brought about through the escalation of the cost of electricity.
The creation of jobs in the small and medium sectors is vitally important to the sustainable development of our economy. It is the responsibility of governments to constantly foster an environment that allows local businesses — large and small — and entrepreneurs to become significant drivers of long term, sustainable job growth and economic activity.
In the words of former South African President Nelson Mandela: "The future of our country is in your hands. It will be what you make of it today. In the competitive international market place, to which we are opening our economy, success and even survival of the nation will depend on you."
It is a known fact that small and medium size businesses are the backbone of any economy; therefore high utility costs, like the oppressive effective KWH cost associated with BEC, rob businesses of vital cash flow every month – cash flow that would be better used to create jobs, expand a business and increase the level of economic activity in our country.
In this regard, ongoing maintenance of the status quo in the delivery of electricity is a recipe for our country's economic disaster. Bold action is required now if we are to release the economic restraints caused by the high cost of electricity and return growth to our economy.
The government must amend the legal and regulatory framework in the Electricity Act to encourage public and private partnerships to develop the Bahamian renewable energy infrastructure such as LNG, wind, solar and ocean energy that are affordable and adaptable to the needs of our people and our country.
We must dismiss the thinking of yesterday and join the rest of the world in legislating an Energy Commission to implement energy initiatives based on a national energy policy.
For instance, all government buildings and state-financed homes must install, be operated and maintained by energy saving systems and technology. A government can also amend laws that dictate that new homes be built following this model.
From a political and business standpoint, and more so as a concerned citizen, I have encouraged and requested dialogue with our leaders to find solutions that will bring this relief. We are all in this together. These infrastructural issues affect all of us and hinder our country's progress.
Michelle Gyles-McDonnough, UN Resident Co-ordinator and UNDP Resident Representative for Barbados and the Organisation of Eastern Caribbean States said: "Our global presence, expertise in capacity building and extensive development finance experience allow us to help small island developing states in their transformation toward sustainable energy for all, by supporting them to develop capacities to attract investments."
During the Achieving Sustainable Energy for all in Small Island Developing States Conference held in Barbados in May, Ms Gyles-McDonnough echoed what the Democratic National Alliance (DNA) has said, which is if the cost of doing business is too expensive, a country will not be able to sustain foreign business, nor local business because of it.
The cost of electricity in the Bahamas is driving up the cost of business and driving down the level of economic activity.
The legacy of our past is not only that of difficulty and despair. We can draw pride from our accomplishments as a people when we work together and build on this past to get things done today.
Our government must once again invite professional stakeholders to sit around the table of common purpose, of innovation, of visionaries, of hope in order to tackle this mammoth problem of the high cost of electricity.
In doing so, we will arrive at solutions that begin the transformation of our fossil fuel-based electrical architecture of the past into brighter hope of our renewable energy future.
There is nobility in the idea of unity in action and working together to realise practical goals. This must be revived.
The idea of an active citizenry, drawn into motion by dedicated activists and inspired by a compelling vision of the future, has to be renewed.
We need to write a new story about the Bahamas. The story of how the government, opposition and the business community work together in order to find new ways to reduce the cost of doing business in our beloved Bahamaland, especially the cost of electricity.