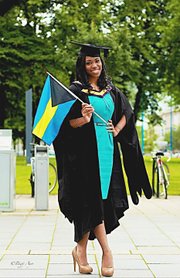 WHO FITS the mold of the quintessential high school bad-boy? If a student is repeatedly labelled the troublemaker, bully or instigator, chances are that's him.
A school's head boy, on the other hand, is commonly described as smart, well-rounded, respectful and mannerly.
The two are often seen as stark opposites, but in his short high school career, Perez Willie managed to be both.
On the premier episode of iLoveSchoolDayz on Cable 12, Perez explains how he went from troublemaker to school leader.
He tells host Antonio Abraham about a journey that began with his being expelled from Lyford Cay School over an incident ending in six stitches for a class mate, to suspension for another fight in his first year at St Andrew's School.
He explains how at his lowest point, a change of attitude took him from a life of anger and frustration to one of proud success as head boy at one of the country's most prestigious private schools.
The conversation ends with Perez outlining his plans for a future in the financial services sector after college.
The show, which will premier on Thursday at 8pm, continues with a success story about a Bahamian law student in London, England.
Nateisha Anderson has big dreams and a bright future ahead of her.
She will discuss the hardships of growing up in a single parent home, and how she overcame these to excel, succeed and pursue her dreams.