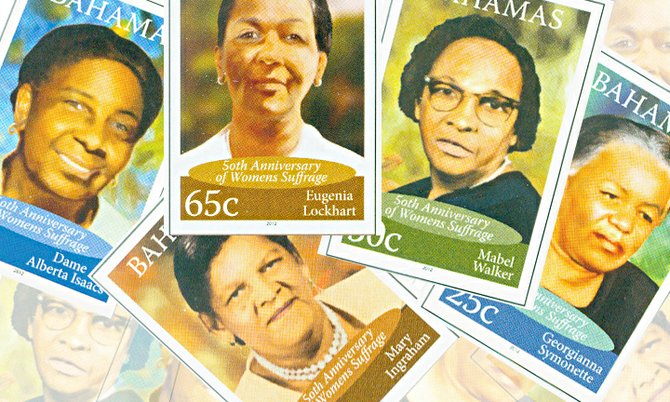 The Post Office Department will issue a new postage stamp in commemoration of the 50th anniversary of the Women's Suffrage Movement on Wednesday, October 10.
This issue will include a 15c stamp bearing the image of Mary Ingraham; a 25c stamp bearing the image of Georgianna Symonette; a 50c stamp bearing the image of Mabel Walker; a 65c stamp bearing the image of Eugenia Lockhart; a 70c stamp bearing the image of Dame Alberta Isaacs and an 80c stamp bearing the image of Dame Doris Johnson.
In the general election of 1949, Mary Ingraham's husband Rufus was beaten. On his return from campaigning, he put the loss down to the fact that women were not yet able to vote.
He felt that most men who were eligible to vote were only interested in getting material things (primarily alcohol and cash) in return for their vote.
Out of this observation, the suffrage movement in the Bahamas was born, and Mrs Ingraham became its president.
She was soon joined by Georgianna Symonette, Mabel Walker, Eugenia Lockhart and several other women.
Together they toured the entire archipelago and obtained 3,000 signatures in support of voting rights for women.

As an activist in the movement, Mabel Walker carried out demonstrations with small bands of women and attended many Women Alliance conferences in England, Ireland, Africa and Italy.
Eugenia Lockhart met with the small group of women to seek the vote, only to find herself at the forefront of the Women's Suffrage Movement. She did not seek self-aggrandisement or accolades.
Dissatisfied with the status of women in the Bahamas, Dame Albertha Isaacs and many of her contemporaries joined the movement.
Dame Doris Johnson joined after returning home from her studies at the University of Toronto.
She led a march to the House of Assembly and demanded women be given the right to vote.
The petition was delivered in the Magistrate's Court since UBP Members of Parliament refused to be addressed by the women in the House of Assembly.