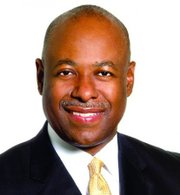 By NATARIO McKENZIE
Tribune Business Reporter
nmckenzie@tribunemedia.net
MORE opportunities need to be created to drive cruise visitor spending, the minister of tourism yesterday acknowledging: "We are getting the visitor numbers but not the spend".
Noting a recent report by the Florida-Caribbean Cruise Association (FCCA), which revealed that the average cruise visitor spend in the Bahamas had slumped by 23 per cent over the last three years, Obie Wilchcombe said: "We get the visitor numbers but we don't get the spend. We have to look at what happens.
"What is interesting is that when the port of Nassau was created, the-then Prime Minister, Sir Lynden Pindling, said this would be a duty-free area to get the spend up because it's always been an issue.
"Now it is the challenge for me to go for greater spend. I'm very pleased about the numbers, but I want greater spend - not only in the capital but also in Grand Bahama and the other islands and cays, because we can create the connection."
The FCCA's Economic Impact of Cruise Tourism, released this week, indicates that while per passenger spending yields have dropped between 2009 and 2012, falling from $83.93 to $64.81, this has been more than offset by an increase in visitor numbers (volumes).
The 22.8 per cent decline in per capita cruise passenger spending in the Bahamas is the largest in the Caribbean region over the past three years, bar the US Virgin Islands. Other nations have seen double digit increases in the yields, including a 60 per cent increase in the Dominican Republic.
"I read the report and I understand  what they are saying. What I do like is that the crews are spending more money, which means that they are becoming more familiar and want to spend more in the community," said Mr Wilchcombe.
According to the FCCA report, crew visiting the Bahamas spent an estimated $79.3 million, the highest level of crew expenditures among the 21 participating destinations.
A total of 714,600 crew were estimated to have made an onshore visit during the 2011-2012 cruise year, the highest number of visits among the 21 participating destinations. Crew spent an average of $111 per visit, the fourth highest average.
Crew expenditures were concentrated in entertainment venues and restaurants and bars, which accounted for nearly 70 per cent of their spending in the Bahamas.
"We have to make sure that our vendors be much more productive, our product has to be at a higher level and we have to provide what the passengers want. We just need to create the opportunity, whether it's more Bahamian goods, more cultural events or whether we cause for some products to be duty free," said Mr Wilchcombe.