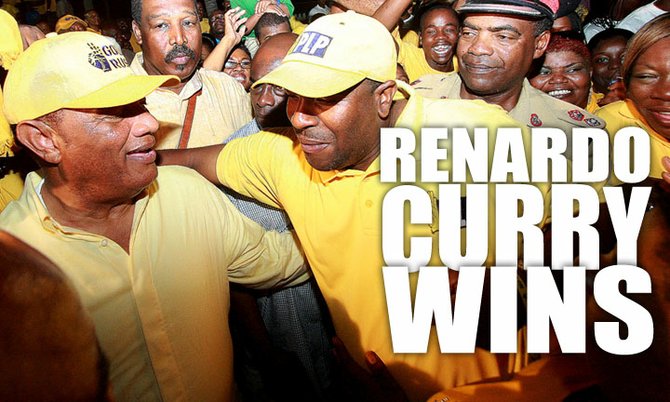 NORTH ABACO BY ELECTION KEY POINTS
• PLP Candidate Renardo Curry wins the North Abaco by-election.
• Mr Curry: 'My people know I'm here to fight for them.'
• PLP wins by 2,367 votes to the FNM's 1,513. The Bahamas Constitution Party gets seven votes.
• Party chairman Bradley Roberts thanks the people of North Abaco for their 'orderly manners in which they exercised their unalienable constitutional rights', while former Prime Minister Hubert Ingraham voices concern over alleged 'unfair practices' by the PLP.
---
The victorious PLP candidate, Renardo Curry: "One of the things I did, even when I suffered that defeat (at the general election), the Prime Minister indicated that I keep fighting. And I was so happy when the opportunity existed for me to run again because I love my people. My people know that I'm here to fight for them and tonight shows that they love me. I felt in the very beginning that our message was very strong. There some indications that showed that if I had a second time around, we could really show our vision and clarity and I think that's what we were able to do today."
---
PLP Chairman Bradley Roberts: "The PLP wholeheartedly welcomes the return of North Abaco to the family of the PLP after 35 years of being apart. We look forward to a productive partnership as we achieve great things together through a shared vision and practical policies that we are confident will benefit all Bahamians. Further, the PLP thanks the people of North Abaco and its wonderful Cays for the peaceful and orderly manners in which they exercised their unalienable constitutional rights. We thank the many communities that comprise the North Abaco constituency for their genuine hospitality, support and enthusiasm during this campaign. Last but not least we thank the staff of the Parliamentary Commissioner's Office for their competence and efficiency in managing this electoral exercise."
---
Former Prime Minister Hubert Ingraham: "The practice of clean, fair campaigns is vital for our democracy. I remain deeply concerned about numerous instances of unfair practices by the PLP and its agents during this campaign. This included intimidation and threats of victimization. Moving forward, we will remain vigilant against attempts to victimize those who supported the Opposition, which is their right to so do without fear or the potential of disfavor by the government of the day."