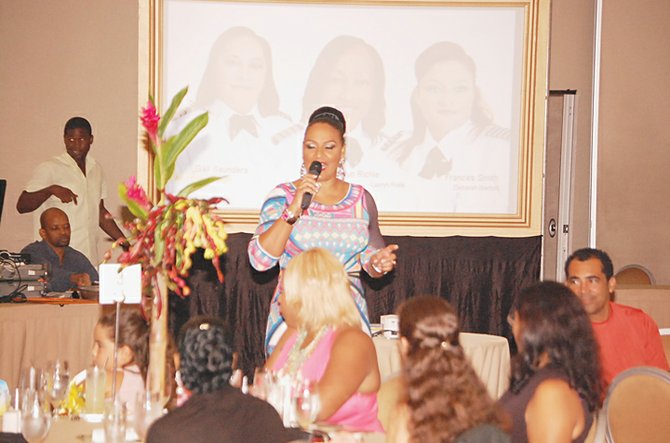 By ALESHA CADET
Tribune Features Reporter
acadet@tribunemedia.net
THE FINAL installment of Cia Monet's Beauties at Brunch series wrapped up a year long women's empowerment blitz by event organiser Patricia Chatti.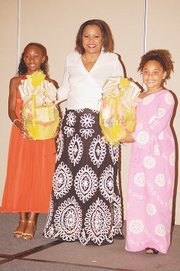 Ms Chatti said those impacted by the movement can expect bigger and better things to come in the new year.
The final event, held Sunday, honoured ground breaking female pilots Gail Saunders, Gwendolyn Richie, Francis Smith, as well as GEMS Radio CEO Debbie Bartlett.
The four-part Beauties at Brunch series was held this year to commemorate the fiftieth anniversary of women's suffrage in the Bahamas. It recognised leading women across the country and paid respect to their contributions.
The first event held in Nassau under the patronage of Dr Sandra Dean Patterson of the Bahamas Crisis Centre set the tone for those that followed.
During the final Sunday brunch, guests enjoyed a soulful dance performance by Sanovia Williams Dance Mogul and former Miss Bahamas Richa Sands, performing "Fly Me to the Moon.  
The female pilots received their honours with a video tribute. Ms Smith had fitting words of encouragement for the women: "Ladies remember the sky is the limit. You can achieve anything you put your mind to so go for it."
Ms Chatti told Tribune Woman she was pleased the event brought a sense of awareness of women's empowerment.
"It taught us how we need to be able to instil in young girls that the sky is the limit and you can achieve a lot. Don't depend on outside circumstances to choose your destiny; you were born with all that is within you to get you to greatness. You just need to be able to develop that and I think that is what this event taught people," said Ms Chatti.
"When you are at a seated and plated event like this, it definitely works to the greater good of social etiquette," she said.
Bahamian singer Julien Thompson took to the stage to perform his well known hit "Believe". Before singing, he shared: "Once you believe in something, anything is possible."
He also performed his new song "Caribbean Slide" with members of the dance group Juice Unit.
Cia Monet and youth honourees Syngular Journee and Lauryn Rolle recognised Ms Bartlett as "a woman of action and reaction".
Local models closed out the show.
"This is not the end. In 2013, again we will be honouring great women throughout the Bahamas. I want people to know that Beauties at Brunch is going to explore Long Island, Eleuthera, Exuma and Cat Island next year. We opened up the doors this year to Grand Bahama, but it will be a bi-annual event for Nassau where we open and close the fashion season here in Nassau but we still go to the out islands in between," said Ms Chatti.