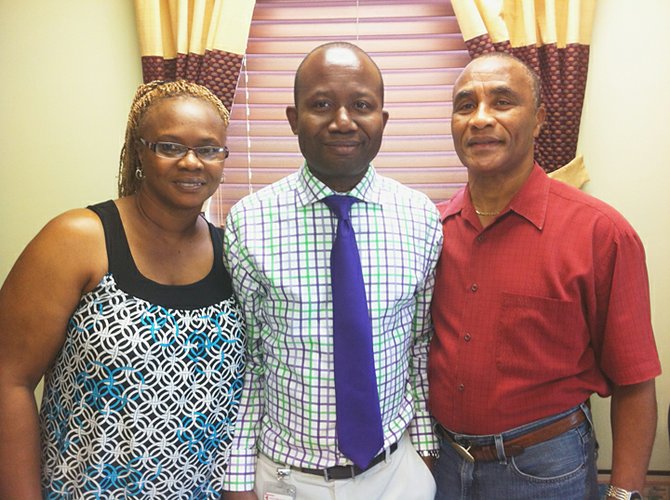 By JEFFARAH GIBSON
Tribune Features Writer
jgibson@tribunemedia.net
IF the neurosurgeon made an incision just one millimetre off point, Ivoine Ingraham would not be alive to tell the tale of how he made it through a successful brain surgery.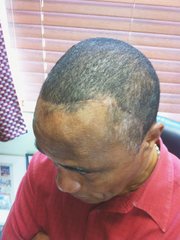 Three weeks ago, Mr Ingraham went "under the knife" to have a pituitary tumour, the size of a grapefruit, removed. Unbeknowst, to him the tumour had been developing for years, with symptoms that could be mistaken for a bad night's rest or tension.
"I had stiffness in my neck and migraine headaches. The headaches did not last very long. I did not tell anyone what I was experiencing either because I did not want to alarm them."
Mr Ingraham did not know something was wrong until he began losing his sight, after getting a new pair of glasses. He got a CT scan which showed the tumour in the pituitary gland.
At that point the tumour had grown very large and Mr Ingraham was advised by Dr Magnus Ekedede, leading neurosurgeon in the Bahamas, of the best possible options to save his life.  
The pituitary gland is a pee sized gland that controls the balance of hormones in the body. If Mr Ingraham did not undergo surgery the time he did, Dr Ekedede said there was no way of telling how soon the tumour would haemorrhage, a condition known as pituitary apoplexia.
"Tumours in the pituitary region are not uncommon. Ivoine's tumour was gigantic. If the tumour was not removed it would have bled. I was shocked at the amount of blood that was in that tumour," Dr Ekedede said.
By-coronal subfrontal cerebellum surgery is usually a successful one. However, Dr Ekedede said it is very difficult to perform. He said this type of operation can only be conducted by the fittest surgeons, who are careful and have a vast knowledge of the brain. If the gland is damaged it can lose its function. "You have to know a lot and you have to be very careful of not damaging the optic nerve," Dr Ekedede said.\
And even with his list of medical breakthroughs during his short time in the Bahamas - separating conjoined twins, performing the first lobotomy - he said this operation was a miracle.
"Before the surgery I prayed and then I left everything in God's hands. It was him doing everything and Ivoine came out of it alive and well. What also played a part in the surgery being successful was that Ivoine kept his body in good shape. He eats well and he was in a great mental state," said Dr Ekedede.
Thankfully the tumour came back benign and Mr Ingraham is in good health.
"I am in excellent condition now and my perspective on life has changed so much. I can see what really is important having gone through that kind of surgery. My faith in God is what got me through that surgery. I wasn't nervous at all because I had God with me and I realise the issue was a  serious one. I made up in my mind that I was going through it one way or the other. I said to myself, worse case scenario I expire. But my mind was at peace with the everything," he said
While Mr Ingraham was undergoing surgery his wife, Portia said she experienced the same peace her husband did.
"That was unlike me. Anyone who knows me knows that I panic easy, but that day I was calm and at ease and I knew that God was with us. God is so good," said Mrs Ingraham.
"That time also made me realise how much I need my husband in my life. I love him and I am so thankful to God and everyone who showed us support," she said.
Mr Ingraham's road to recovery involves lots of rest. However, he wants to sensitize the public about the condition he suffered.
"If you have migraine headaches do not take it lightly. Many people have symptoms and constant headaches and they think it is okay but it is not okay. If you are experiencing migraine headaches that last very long go see doctor," he said.