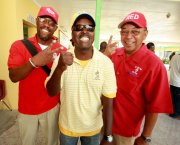 9am: PLP and FNM supporters are outside polling booths as voters cast their ballots for Renardo Curry (PLP), Greg Gomez (FNM) or Ali McIntosh (BCP).
Parliamentary Secretary Errol Bethel is reporting a smooth voting process at this time with no challenges.
"All the polling stations are prepared with all ballot boxes in their rightful places. They were able to start on time which is a testament of the advanced preparations."
9.15am: Loretta Butler-Turner, deputy leader of the Free National Movement (FNM) says the turnout so far at Abaco Central High for Murphy Town is piling up and has been consistent.
She acknowledges that Murphy Town is a heavy populated Progressive Liberal Party (PLP) area but says she's seen a number of FNM supporters turn out. She is confident in the FNM's chances to win the seat.
FNM Deputy Leader Loretta Butler-Turner said although by-election voting is going 'smoothly,' she is upset by the 'poor planning' which sees polling stations for the same town split into separate locations.
The Long Island MP said: "I'm in charge of Murphy Town which has two polling divisions. One of the most ludicrous things they have done is they separated them into two separate locations.
"Some Murphy Town residents have to go to Dundas Town to vote. That certainly plays into the confusion. Both of those stations should have been together - I have to split my resources and my time to ensure voters are voting where they should be. In my opinion that is really poor planning."
Mrs Butler-Turner says her team has been working since this morning, taking or directing voters to correct polling stations and ensuring voters don't get discouraged when they go to the wrong one.
"We're being very vigilant," she said. "Were keeping our eyes and ears open so that things continue to be fair."
9.24am: The PLP's Khaalis Rolle says that Murphy Town is a PLP stronghold and he doesn't see the PLP conceding that area to the FNM. He says Renardo Curry is the superior candidate.
10am: FNM leader Dr Hubert Minnis feels that the turnout has been good so far, as has the number of FNM supporters. He has no doubt that they will win because, he says, the people 'will not be swayed by threats and intimidation.'
10.36am: Ali McIntosh says she is encouraged about her chances, and her party's chances (Bahamas Constitution Party, BCP), in securing North Abaco because of 'divine favour' and having done door-to-door personal calls with residents.
11.30am: Prime Minister Perry Christie and Deputy Prime Minister Philip Davis speak with their candidate Renardo Curry outside Treasure Cay Primary School.
PM Christie dismisses the claims of the opposition that his party has engaged in victimisation, threats and intimidation during the campaign. He said the people elected him and his party because they were fed up with previous administration and wanted the PLP to do good for the country. He said he would not mess this new term up by engaging in or encouraging such behaviour because it is 'foolish, as are the claims by the opposition.' He says today 'will not be an easy battle or victory.'
1.40pm: Exit polling in Murphy Town shows the PLP have the edge 9-6. In Cooper's Town it's 9-8. Government minister V Alfred Gray says the day started slow but began picking up. Both sides are keeping the peace though, he says - there have been no issues of arguing.
4.54pm: Education Minister Jerome Fitzgerald said he was pleased with the turnout at the Treasure Cay polling station. "People are exercising their democratic right and we're satisfied with that and we're looking good. We think it's a hotly contested race in Treasure Cay and we look forward to the outcome."
5.10pm: Social Services Minister Melanie Griffin believes the PLP will win Murphy Town, which they lost during the General Election in spite of it being Renardo Curry's hometown. PLP deputy campaign coordinator Valentine Grimes claimed FNMs were deliberately trying to slow down the voting process. Mr Grimes said most polling stations should be able to accommodate almost 200 voters. However, he said one polling station in Dundas and Murphy Town, thought to be a PLP stronghold, had received less than 100 people. Mr Grimes said: "There is a deliberate attempt in the Dundas and Murphy Town polling division, where the PLP have gotten strong support, to slow down the process. I think it is very unfortunate. Desperate men will do desperate things but in the end the people will speak and send them home."
Mr Grimes said: "From our point of view turnout has been excellent and we are confident about our candidate Renardo Curry, however, we do know it is a hotly contested seat."
6pm: Polls close.
7pm: First results are in: Polling division 1 (Grand Cay), PLP 140, FNM 105, BCP 0.
7.10pm: Treasure Cay 130 PLP, 170 FNM with 100 votes to count, reports Shane Gibson on his Facebook page.
Unconfirmed reports: Cooper's Town - PLP 148, FNM 166, it is reported. Murphy Town PLP 203, FNM 75, BCP 1.
7.30pm: Six results in: PLP 1364; FNM 838; BCP, 3.
7.45pm: Seven results: PLP 1577, FNM 959, BCP, 3.
7.42pm: Hubert Ingraham concedes defeat and issues a statement. He says: "The voters of North Abaco have decided that Renardo Curry will become their next Member of Parliament. I wish also to acknowledge Greg Gomez for waging a vigorous contest during the by-election campaign. He has a promising future and will continue to make us all proud."