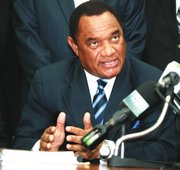 PRIME Minister Perry Christie said despite the global recession the government is looking into various developments to strengthen Family Island economies – which is "key to the future" of the Bahamas.
Speaking outside of Cabinet yesterday, Mr Christie said in reference to Abaco that the government is exploring the possibility of expanding Baker's Bay and attracting new developers to take over property currently being managed by the Ritz Carlton.
He said: "The effort we're going to make to create stronger local economies on the other islands is key to the future of our country – it's going to be very important that we make progress and I am very gratified to think that the spirit that we brought to governance will be responded to by people who are interested in direct foreign investment in the Bahamas."
Mr Christie noted the by-election presented a unique opportunity for the government to evaluate Abaco's economy and speak with residents about developments on the island.
"One of the developments we put there (in Abaco) the Ritz Carlton is what we must look at very carefully because the Ritz Carlton would want to have another developer come in to take over that property and its a matter that we are looking at.
"We are looking at the expansion of Baker's Bay - the by-election has brought us into close contact with people who otherwise we would have not spoken to," he said.
Additional training programmes, which are currently only available in New Providence, are needed in Abaco, Mr Christie added.
"There are many significant programmes, particularly to do with training of young Abaconians who we met who are separated from good jobs simply because of a training programme that we offer here in New Providence.
"I am encouraged by the possibilities for the Bahamas and we will be driving hard to take advantage of those possibilities."