By DENISE MAYCOCK
Tribune Freeport Reporter
dmaycock@tribunemedia.net
FREEPORT – Prime Minister Perry Christie announced that a 500-room five-star resort, which will create many jobs and stimulate Grand Bahama's struggling tourism economy, will open at the Reef Village property at Lucaya.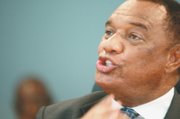 The announcement was made Wednesday evening at the Grand Lucaya Resort, where Mr Christie revealed that Letters of Intent and Memoranda of Understanding regarding a major partnership arrangement were signed between the government, Hutchison Whampoa and the Canadian-based Sunwing Travel Group.
Under this arrangement, he said some 1,000 new permanent jobs and hundreds of construction jobs will be created in Grand Bahama.
According to Mr Christie, Hutchison will renovate and reopen the 503-room Reef Village, which will be leased and operated as a five star all inclusive resort by Blue Diamond Hotels and Resorts, an affiliate of the Sunwing Travel Group – one of the largest travel conglomerates in Canada.
In addition to being successful hotel operators in Cancun, Dominican Republic, Jamaica, and Cuba, Mr Christie believes that Sunwing will bring to Freeport a product that is in demand in the marketplace.
He also stated that as a major tour operator and airlift provider, Sunwing, which owns and operates a fleet of 737-800 aircraft, will operate flights to Freeport from several cities in Canada.
"In addition to the Reef Village and the Grand Lucayan, they will market other participating hotels in Grand Bahama," the prime minister said.
As part of the arrangement, Sunwing, through its affiliate, Vacation Express USA Corporation, will work with the Ministry of Tourism and the Grand Bahama Island Promotion Board as well as participating hotels to restructure, support and turn the current underperforming contracted summer airlift programme from multiple USA cities to Freeport into a success. It will also relieve the Ministry of Tourism (MOT) of the current heavy financial liabilities.
The group has also agreed to facilitate and encourage its beneficial shareholder TUI Travel, the world's largest travel company, based in Europe, to consider proposals for the inclusion of Grand Bahama in TUI Travels' destinations, including flights that operate from Europe into Orlando, and to explore direct flights from Europe to Freeport.
Mr Christie also stated that Hutchison has plans for the renovation and conversion of its 192-room Lighthouse Point property.
He also indicated that the government will enter into an arrangement with the Grand Bahama Airport Company to take over the employment of air traffic controllers at Freeport International Airport with effect from July 1, 2013.
It was also noted that a new operator will take over the casino in Lucaya in January 2013, replacing Treasury Bay Casino.
Prime Minister Christie said restoring Grand Bahama's economy is a priority for his government.
"In my government's charter for governance on which we so successfully campaigned in the general elections last May, we pledged to give the highest priority to addressing the ailing economy of Grand Bahama, particularly the vital tourism industry that has been in a serious state of decline for several years.
He expressed his appreciation to Hutchison Whampoa for the significant investment it is making, and for keeping the Grand Lucayan open, despite incurring losses during very challenging times in Grand Bahama.
Tourism Minister Obie Wilchcombe said the announcement signifies "a new day" in Grand Bahama.
"It is a very important day, we refer to it as a new day. It is a giant step towards our resuscitation of GB and the repositioning of GB as a tourism destination," he said.
Dr John Meredith of the Hutchison Group is confident that Sunwing will deliver a five-star property in Lucaya and wished them well.  
Mr Meredith said Hutchison has been working hard to bring investors to the island.
He took issue with media reports that suggested that Hutchison and the Port Authority are "sitting on land in Grand Bahama."
"I can assure you from the top that this is no way the case. If you said it, it would be crazy because the land value has gone down instead of up, so it doesn't make a brilliant business decision to be sitting on land – we are not.
"The Port Authority and we are out there every day worldwide, trying to bring in people to invest on the island.
"One of the issues we had, frankly, is financing. All these companies that turn up have great schemes and ideas, but do not have the wherewithal to back them up.  We are not in the practice of going to the media every week with some new plan, and then it doesn't take off.
"You may not think we are doing anything, but we have teams here, and the PA team as well, helping us globally looking for investors.
"And I have to say, I do think we are going to get some good news very soon – not just with the hotel. With the PM's help and the Port Authority, I think we are going to crack it very soon." 
Darrell McWilliams, vice president of sales and marketing at Sunwing, said through the partnership with government and Hutchison, they hope to bring to their expertise in the tourism sector to Grand Bahama.
"We will be bringing expertise from markets in both Canada and the US. We have a very aggressive entrepreneurial company and we are familiar with the types of challenges you face here.
"We are privileged to join this group and delighted to be a part of it. We are really looking forward to the challenge. We know it would be a challenge, but… that is not going to deter us. We will forge ahead with our partners and create an industry here that is vibrant and sustainable," he said.