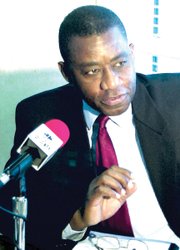 By NATARIO McKENZIE
Tribune Business Reporter
nmckenzie@tribunemedia.net
THE Bahamas should look at signing an Intergovernmental Agreement (IGA) to comply with the US Foreign Account Tax Compliance Act (FATCA), a former finance minister said yesterday.
CFAL chairman James Smith, who was a panellist at Higgs and Johnson's annual client seminar, said: "In the context of the Bahamas is we should go for an Intergovernmental agreement. You could have information being turned over and it turns out to be false. There would certainly be ramifications for that. If you turn it over to the Government, the Government has to screen it."
Mr Smith noted that while tax evasion was not a crime in the Bahamas, an insitution could put itself in a position where it was comp-liant with the US but in violation of Bahamian laws.
The three broad approaches to FATCA reporting include direct reporting to the IRS by an institution; the government to government information sharing; and direct reporting to the IRS under an Intergovernmental Agreement.
The Bahamas has a choice of whether to allow its individual institutions to comply by signing their own agreements with the IRS, or agree an Intergovernmental deal where the Government would supply the information Washington is seeking.
It was also agreed that small international financial centres (IFCs) cannot afford to ignore international exchange of information treaties and agreements.
Mr Smith said: "I think a financial centre can do anything it wants, except it must be able to live with the consequences. If an offshore financial centre decides to ignore international norms it would soon cease to exist. You have to keep an eye on what is happening in terms of government best practices."
He added: "You have to make your way through in terms of finding niche markets or developing more efficient services."
 Tom Maylott, senior associate at Higgs and Johnson, said: "You have got to be cognisant of what the worldwide expectations and requirements are. With FATCA, it's going to be hard for an IFC to stand on its own and keep clients if it doesn't comply."
Mark Sheer, of the law firm Gunster, added: "On the international side I think is a practical impossibility. It's not so much the independent jurisdictions as it is the institutions. Most of these financial institutions are spread across many jurisdictions, and they would find that in these various jurisdictions they would have to come under the various agreements."