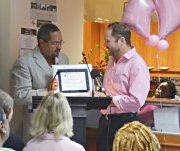 SEEKING to celebrate its 90th anniversary in a meaningful way, HG Christie real estate company chose to donate 90 mammograms to help the fight against breast cancer.
John Christie, director and vice president, said: "While considering how to celebrate our 90th year, we pondered many options. After much thought it became clear – the right thing to do was to celebrate our 90th anniversary by giving the gift of our time and resources to the communities we serve.
"Our donation of 90 mammograms – 30 in Nassau, 30 in Abaco, and 30 in Grand Bahama – will mean women who otherwise would not, will now have access to early detection screening and lives potentially can be saved."
At an event held at The Breast Centre on Collins Avenue, the HG Christie team joined with health care professionals, guests and cancer survivors to share information and support in aid of the fight against breast cancer.
Mr Christie said: "While breast cancer is not the only health concern in our communities, its statistically high occurrence in the Bahamas makes us acutely aware of its presence and devastating effects.
"HG Christie feels strongly that improving the health of our women has a positive effect on families and ultimately our communities. We know that early detection can make the difference between surviving and succumbing to breast cancer."
Cancer survivor Andrea Sweeting, shared her firsthand experience of battling this disease and expressed her deep gratitude for the care and technology that allowed her to "still be here".
After extending his gratitude for to the Breast Centre for their hospitality and service to the community, Mr Christie said: "Whether you've been affected by cancer yourself or because a loved one or friend has, your presence here and your efforts speak loudly. It says that bringing an end to breast cancer is important.
"The hope of the entire HG Christie team across the Bahamas, is that through our combined works to raise awareness and support early detection, we will win the battle with this disease in the Bahamas."