MORE residential care facilities are needed for an ever-expanding population, says Minister of Social Services and Community Development Melanie Griffin.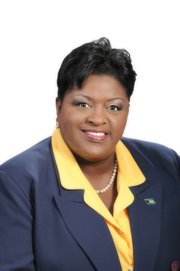 The need for additional private, fully-accredited adult day-care and or residential care centres in the Bahamas is expected to mushroom in the upcoming years, due to recent advances in medical science that have increased life expectancy to 70 and over, she said.
Griffin said statistics show that 'too many older persons are being neglected and/or abandoned' by family members in their twilight years.
She said while the government would continue to do its part to ensure a good quality of life for the country's seniors, government cannot do it alone.
"We can not take care of every person over the age of 65," Minister Griffin said. "Naturally, it is expected that the family will assume responsibility for the care and well-being of its older members – and many do so either at home or with the assistance of daycare and/or residential care services – but, unfortunately, there are families who are either unable or unwilling to do so and more and more, we are seeing older persons being neglected or abandoned."
Addressing the recent opening of Phase II of Pat's Senior Citizen Home and Day-Care Centre, located off Soldier Road, Minister Griffin said the expansion of the facility was a noteworthy accomplishment in two significant ways.
The facility, owned and operated by Patricia and Edmondo Moxey, has increased its bed space from 14 to 28 as a result of Phase II and offers 24-hour care to its clients.
"Firstly, it fulfils a need for adult day-care centres in our country and demonstrates that such a need can be filled by Bahamians," Minister Griffin said.
"Secondly, Mrs Moxey has shown that entrepreneurial spirit, when combined with love and concern for our senior citizens, can be worthy of emulation.
"Our older persons are the repositories of our 
country's memories and wisdom.
"Further, they would have made many sacrifices in raising their children – often under very difficult economic and social conditions. It is fitting, therefore, that they be cared for when they are unable to do so for themselves," Minister Griffin added.
Griffin said the United Nations estimates that persons 60 years of age and over will comprise one quarter of the Caribbean's population by the year 2050.
Life expectancy in the Bahamas now stands at 71, which Minister Griffin said was 'a significant improvement that has only happened in the last three decades.'
Griffin said additionally more and more Bahamians were joining the lists of septuagenarians (persons 70-79 years of age), octogenarians (persons 80-89 years of age), nonagenarians (persons 90-99 years of age) and centenarians (persons 100 years of age and older), which means longer care will now be required for those persons.
"This steadily-increasing number of older persons will also mean increased demands on our social services," Minister Griffin said.
"That is why the expansion that has taken place here at Pat's Senior Citizens Home and Day-Care Centre is so significant and noteworthy because it is facilities such as these that will help to provide the kind of loving care our elderly will need.
"It may not seem so to those persons not directly involved in the care of the elderly, but it is very important to those of us who are," the minister added.