By CHESTER ROBARDS
Tribune Senior Reporter
crobards@tribunemedia.net
PRIME Minister Perry Christie has encouraged members of the National Progressive Institute (NPI) to hold the Government's feet to the fire on major issues.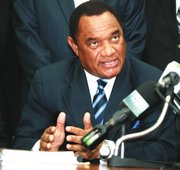 The NPI is a fully constituted body of the Progressive Liberal Party (PLP) that engages in consultation and research to advise party officials on national and internal matters, said Mr Christie at a ceremony for new officers on Friday.
"As party leader as far back as the late 1990s, I expressed a desire for the formation of a body like this to advise the party's leadership of relevant policy proposals not only for the continued evolution and growth of the PLP, but policy proposals that could be advanced and legislated by a PLP government," he said.
"We have a referendum on gambling to be held very soon and I applaud both the PYL (Progressive Young Liberals) and the NPI for creating the forums through which the general public was able to express itself on this important national issue."
Mr Christie told the group of delegates to consider preparing themselves for the upcoming debates on constitutional reform, as their views will be needed on the elimination of gender bias, implementing a fixed general election date and establishing the Bahamas as a republic.
"You should take advantage of the opportunity for your collective views to be heard," he said.
"It is the responsibility of people like you, the next generation of national leaders, not necessarily political leaders, but leaders in all sectors of civil society who must decide what kind of society and country you want to live in and how you want to be governed."
Mr Christie said much of the PLP's progress had been due to the 'advocacy' of the NPI, and he said many of its former members had gone on to serve in government as well as gain high positions in the private sector.
"We have made great policy strides with the constitutionally recognised PYL constituency branches with voting privileges in the NGC and at National Convention," said Mr Christie.
"These all-important and progressive policy overhauls will go a long way in keeping the PLP relevant and dynamic – a reflection of the society it serves.
"NPI members, I challenge you to hold the Government's feet to the fire when it comes to the concerns of our people. You are now another PLP voice for and on behalf of those who have no voice."