By LAMECH JOHNSON
Tribune Staff Reporter
ljohnson@tribunemedia.net
A MAN accused of being involved in the 2009 Halloween night shooting of two Atlantis security guards was acquitted of double attempted murder yesterday after a judge directed the jury to find him not guilty.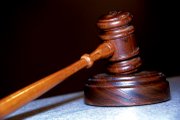 Bashard Seymour, 20, of Eight Terrace, Centreville, was unanimously acquitted of two counts of attempted murder after a direction from Senior Justice Jon Isaacs.
It had been claimed that Seymour, who was standing trial with 22-year-old Clarence Smith of Dolphin Drive, had with Smith tried to kill Dwayne De Costa, 46, and 33-year-old Troy Feaste on October 31, 2009 in Marina Village.
Seymour, and Smith, had denied the charges.
Yesterday Justice Isaacs delivered his direction and told Seymour he was free to go. Seymour and his family left court, but had no comment.
Cheryl Bazard, Seymour's attorney, had made a no-case submission to the court on behalf of her client at a hearing on Friday. She told The Tribune yesterday that it was clear the prosecution had not made a case against Seymour.
On Friday, the case's investigating officer Inspector Uel Johnson read Seymour's statement to the police which he gave on November 1, a day after the Marina Village shooting.
On the day in question, around 8pm to 9:30pm, he and "A" (name not used due to a legal issue brought up during the trial) went to Paradise Island, where "A" parked the car in the parking lot near the roundabout entrance to Marina Village.
The two got out of the car and walked through the village until they were approached by two men near the shops.
The men inquired who they were before he was pulled to the side by one of the men.
After telling the man his name and that he had come to Marina Village to enjoy himself, he noticed a woman walk past carrying a pizza box. He tried to get her attention. She ignored him.
While speaking to the men, they asked if he and "A" had come to the village to cause trouble. He told them no and repeated that he was there to enjoy himself.
Seymour and "A" continued to walk through the village until they were stopped by the man again and after an exchange of words, Seymour saw "A" pull out a dull silver coloured gun and he heard a gun shot go off and he ran, the court heard.
As he ran, he heard four more shots go off. He ran into a man dressed all in black who asked him where he was going. Seymour said he had no idea "A" had a gun on him and he ran before hearing a gunshot. He had done nothing wrong, he said.
In response to Mr Johnson's evidence, Cheryl Bazard, Seymour's attorney, cross-examined the policeman.
"Officer, at the time of the incident, Mr Seymour would've been a minor?" the attorney said. Inspector Johnson said yes.
"And you indicated that you took from him certain items?" the attorney asked.
"Yes," the officer replied.
Ms Bazard asked the officer if he had made a note of this. He said he did so in the report, which could be found attached to Seymour's file in a case diary.
"He (Bashard Seymour) never said he attacked anybody?" the attorney asked. The officer answered no.
"So he, as he said to you, was not part of the shooting?" Ms Bazard asked
"Not in so many words, but he said when he heard the first shot, he ran," the officer said.
Ms Bazard had no further questions and the Crown closed its case. Ms Bazard then submitted that there was no case to answer.