By BRENT STUBBS
Senior Sports Reporter
bstubbs@tribunemedia.net
NINE boys and six girls teams have already confirmed their participation in the third annual Bahamas Gold Trading and Temple Christian Academy Primary Schools Basketball Tournament.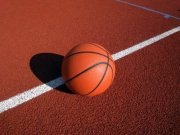 The tournament, organised by Nekeno 'Keno' Demeritte, is scheduled to begin on Monday at the Temple Christian Academy Gymnasium and run through Friday, November 2 when the two champions will be crowned.
"Knowing that we don't have that many schools ready to compete in basketball, we are pleased with the amount of teams entered," Demeritte said. "Some of the schools have told us that they only have about three girls, so they don't have sufficient players to field a complete girls team.
"But I expect that the tournament will be exciting from start to finish. I know that Genesis Academy is back for the third year and they have already sent a message to us that they are coming back this year to win it all. So the challenge has already been set, which should make it very exciting."
Demeritte has coached the Suns' girls to the championship, winning the title for the past two years. And even though he has lost about five girls from last year's team, he's confident that Temple Christian can still hold onto their title at the end of the week-long competition.
The boys' title was won last year by the Mt Carmel Cavaliers but, unfortunately, they won't be back, leaving the door wide open for a new champion.
"Watching my boys scrimmage and play a few games this year, they seemed to be almost at the level where we were last year," Demeritte said. "So if we can get it together, we would definitely like to go out and win both titles. I think that would be a big boost to our programme. Of course, we know that there are a number of teams who will be coming for us. So we have to be ready to compete in our won tournament.
Games are slated to start at 3:30pm each day at the Temple Christian Gymnasium with the girls playing in a round robin format, while the boys will be participating in two separate pools with the winners clashing in the final.
Bahamas Gold Trading, operated by Janelle and Brandino Brown, are back as the sponsors for the tournament for the third consecutive year.
"We just want the public to come out and support it," Demeritte said. "This is a good atmosphere to bring schools together that don't have a league or just want more games for their teams to participate in. We expect that the competition will be very keen this year."