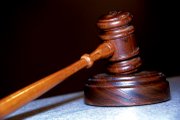 A MAN was remanded to Her Majesty's Prison yesterday after he was charged with having sex with his teenage daughter.
The 49-year-old of Nassau Village, whose name is being withheld for legal reasons, appeared before Chief Magistrate Roger Gomez facing a charge of incest, where the victim was his 14-year-old daughter.
It is claimed that sometime between July 2012 and August 4, 2012, he had sexual intercourse with the girl.
The man was not required to enter a plea to the charge due to its nature.
Chief Magistrate Gomez told him that his case would be fast tracked to the Supreme Court for trial and that he could not receive bail.
He was told that he had the right to apply for bail at the Supreme Court.
The accused was not represented in yesterday's arraignment.