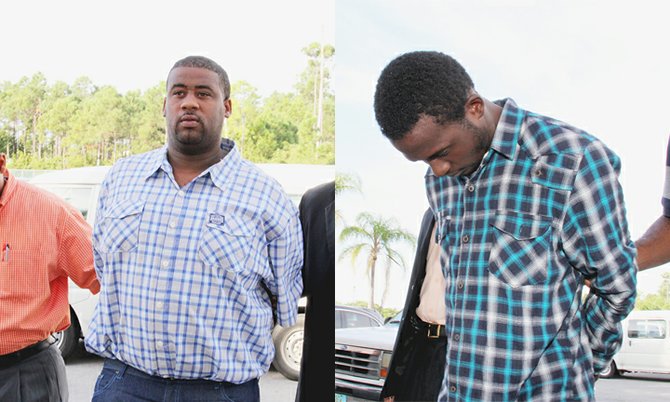 By DENISE MAYCOCK
Tribune Freeport Reporter
dmaycock@tribunemedia.net
FREEPORT – Two men were charged on Tuesday in the Freeport magistrates' court in connection with the $500,000 jewellery heist at the Circle Mall.
Jamaal Lightbourne and Ryan Pinder, both 27, of Freeport, appeared in court one before magistrate Debbye Ferguson.
The pair were charged with conspiracy to commit armed robbery. 
It is alleged that on October 17, the accused, while being concerned together and with another, conspired to rob Latika Similien and Letisha Greene of 34 pairs of gold anklets, 76 pairs of gold earrings, 104 gold chains, 114 gold charms, 186 gold bracelets, and 337 gold rings.
The jewellery items, which are the property Francis Gee of Goldylocks Jewelry Store, have a total value of $552,948.30.
Last Wednesday, two armed men entered the mall shortly after 11am and robbed a jewellery store.
A third man was waiting outside in the getaway vehicle.  During a shoot-out with the police, one suspect was shot and killed.
Police have identified the deceased as Don Delva of Garden Villas.
Lightbourne and Pinder were not represented by counsel during their arraignment, which was held around 1pm.
A number of police officers were posted in the courtroom for security.    
Pinder was also separately charged with armed robbery, firearm possession, and with assaulting a police officer.
It is alleged that on October 17, while being concerned with another, the accused robbed Latika Similien and Letisha Greene of an assortment of jewellery valued at $552,948.30, the property of Francis Gee of Goldylocks Jewelry.
It is also alleged that Pinder was found in possession of an unlicensed firearm, namely a handgun, while committing an indictable offence.
Pinder was also accused of assaulting Corporal 2631 Arthur while he was executing his duties.
Magistrate Ferguson advised Lightbourne and Pinder that the charges against them are indictable offences and they were not required to enter pleas.  
"I am of the view that these are not matters for which you both can get bail," she told them.
However, they were told that they could make application to the Supreme Court for bail.
Magistrate Ferguson adjourned the matter to December 19 when a preliminary inquiry will be held to determine if there is sufficient evidence for them to stand trial in the Supreme Court.